Instead of unexpectedly fumbling around in the dark, walking home on a path without streetlamps, or being unable to find your phone in the crevice of your car—why not carry around an everyday carry light?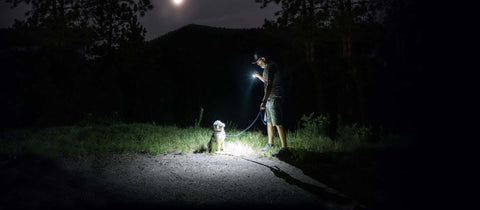 Everyone has been in a situation where they needed a flashlight and didn't have one on hand. And while you may think a phone flashlight will suffice, it's likely it won't. Everyday carry lights, also known as EDC lights, are great to have in your pocket or bag for whenever you need a light. They also make great gifts for the people in your life who keep irregular hours — college students, family members, or friends who may often find themselves out and about early in the morning or late at night.
You'll never regret having an EDC light on hand, and Fenix makes the best ones on the market to keep you safe wherever you go. Here is a guide to selecting and buying the best EDC light for your needs.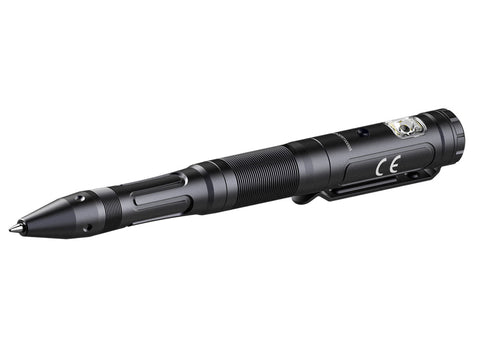 The Most Compact EDC Lights
Keeping a light on your keychain is the best way to make sure you have a light wherever you go. The Fenix E03 V2.0 Keychain Flashlight is brighter than most keychain flashlights on the market. Shining a bright 500 lumens, this light includes four brightness levels and seven lighting modes. The white light is ideal for daily lighting needs, the red light helps preserve your nighttime vision, and the red flashing light can be used for signaling in case of emergency. Smaller than the average key fob, this is the best EDC light to carry with you wherever you go.
One of Fenix's most compact EDC lights also doubles as a pen. The Fenix T6 Penlight is not your average penlight, however. It comes with three lighting modes and throws its 80 lumens at a distance of 59 ft (18 m). Even more impressive, the T6 Penlight has a silicon nitride bead on the tail that can be used to break glass in an emergency, such as a car window. And don't forget, the light is also a pen, so you can use it to write, even at night. The light is rechargeable and shorter and lighter than an iPhone 13—it's easy to carry in your pocket, purse, or backpack.
Compact But Mighty – The Brightest EDC Light
When you're looking for a compact size and maximum brightness, the Fenix PD25R is the best EDC light. Although it weighs only 2.75 ounces it throws a max 800 lumens at a distance of 820 ft (250 m). The two-position body clip means you can attach it to the brim of a cap, your pocket, or a bag, so you can have hands-free illumination for nighttime work or emergency repairs. This EDC light is great for camping, hiking, in an emergency, or while on duty. With a max runtime of 70 hours and a battery level indicator, you can rely on this EDC light to be there when you need it.
Most Affordable EDC Light
The best EDC light for those looking for a low price point and high quality is the Fenix E01 V2.0 AAA Flashlight. Only 2.6 inches long and half an inch in diameter, this light can attach to your keychain or fits easily in a pocket or handbag. Three brightness levels mean you can adjust according to your illumination needs. Even at its low price, the E01 V2.0 is made of a high-quality aluminum alloy and has an IP68 dustproof and waterproof rating. A great value and an excellent ECD light for daily use.
Versatile and High Performance – Best EDC Light for Heavy Use
When you want the best EDC light that is compact and can stand up to heavy use, the Fenix LD12R Rechargeable EDC Flashlight is a great choice. Ideal for hiking, maintenance work, walking the dog, or finding lost items, the LD12R is 4.76 inches long and can throw a max of 600 lumens across a distance of 610 ft (186 m). The body clip includes a magnet, so you can attach it to most metal surfaces for hands-free lighting. The light is submersible to 2 meters for up to 30 minutes, so don't worry if you accidentally drop it in water. The LD12R includes a side light which allows you to turn it into a reading lamp if needed.
Add an EDC Light to Your Life
Easy to carry but incredibly useful, once you have an EDC light you'll wonder how you got along without one.
You'll never be stuck in the dark when you attach an EDC light to your keychain or throw it in your purse or car. What you don't want is a light that breaks easily, loses its charge, or is too dim, so it's important to buy the best EDC light for your needs.
Make sure you and all of your loved ones have the light they need when they need it.