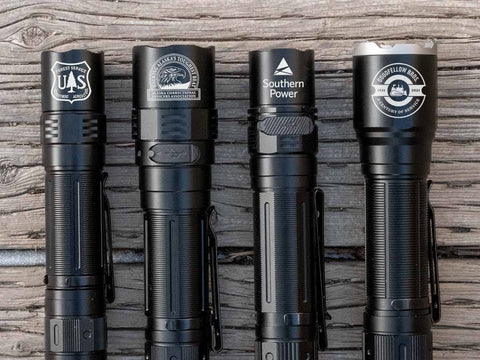 If you're struggling to find interesting yet useful gifts for the people on your list, Fenix can help. Often the best gift is something a person didn't realize they needed or a high-quality item they wouldn't normally invest in. Fenix lights—from everyday lights to bike lights to headlamps—are some of the highest-performing, best-quality lighting products on the market.
To make your purchase even more special, you can personalize the gift with a name or design of your choosing, or use one of our existing designs. Personalized gifts are always appreciated, and a customized, high-quality flashlight is a present that everyone on your list will like.
Not sure which light is the best for your friends, family, or coworkers? No problem! We created a guide to finding the best personalized gifts for your parents, kids, siblings, or friends.
Personalized Gifts for Tactical Professionals
Fenix lights are the perfect gifts for anyone who works in law enforcement, security, as a firefighter, or as a first responder. The lights will hold up to heavy usage and include features that will be appreciated by anyone who needs a light for security or self-defense.
One of our most popular tactical flashlights is the Fenix TK20R V2.0. This light can also be personalized, features a 48-hour runtime, and it completely recharges in just four hours. The dual tail switch allows the user to easily switch between modes with one hand. It can throw 3000 lumens 1558 ft (475 m), which makes it invaluable when searching, patrolling, or for general law enforcement.
Personalizing this light, with either the recipient's name or a design, will make this an unforgettable gift for any of the tactical professionals on your list.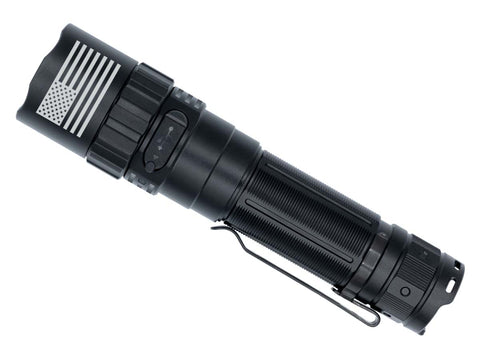 Personalized Gifts for Dads, Uncles, or DIYers
Looking for a gift for your dad, uncle, or a loved one who loves do-it-yourself projects? The Fenix PD40R V3.0 Rechargeable Flashlight is an exceptional light that is essential for emergencies, safety, and nighttime repair projects. The body clip and tail stand capability means you can attach it to a backpack or stand it on its end for hands-free lighting.
Your recipients will also love the newly designed patented mechanical switch with raised grips for easy one-handed operation. And like most Fenix lights, the PD40R V3.0 is rechargeable with a universal Type-C charging port. Exceptionally bright and durable, this is a present your loved ones will use for years, especially when it's personalized just for them.
Personalized Gifts for Camping Enthusiasts
Having a good flashlight is a must for any camping expedition. Many camping enthusiasts avoid spending money on a high-quality flashlight, even though it's an essential tool.
The Fenix PD35R Rechargeable Flashlight has six lighting modes, including strobe, which makes it ideal for a variety of tasks. It's only 5.35 inches long and one inch in diameter, so it's a great light for camping or backpacking. Despite its small size, it shines a maximum of 1700 lumens at a distance of 1158 ft (353 m). The inner waterproofing design allows the PD35R to function even in extreme environments, and it's fully protected against dust, water, and foreign objects. Once you personalize this light it will become the favorite camping accessory of any outdoor-loving person on your list.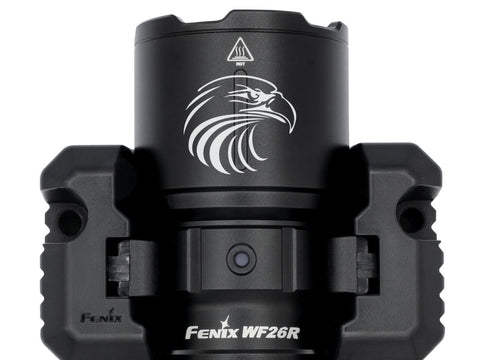 Personalized Gifts for Workmen
If you need to give a gift to someone who spends a lot of time working in dark spaces or outdoors at night, the Fenix WF26R is in a class of its own. The lighting connoisseur will appreciate that this light can blast 3000 lumens at a distance of 1476 ft (450 m). It comes with its own charging cradle so the battery can always be at 100 percent and ready to perform. Six modes include strobe and SOS, as well as lower settings for indoor or outdoor lighting in closer quarters. The metal body clip attaches the light securely to a pocket or pack, making it easy to have at the ready.
To make this light even more special, custom engrave the head of the flashlight with a name or design. The recipient will think of you every time they use this hard-working, high-performing light.
Take Care of your Holiday Shopping at Fenix
Owning a well-made and functional tool is a pleasure. However, many people hesitate to spend money on themselves, instead struggling with inferior tools. Buying a Fenix light for the people on your list shows you care about their safety. It will make their camping trips, home improvement projects, and nighttime patrols more enjoyable and effective.
Personalizing the gift will make it stand out, and will show you care. Shop for personalized gifts from Fenix for all of the hard-working people on your list.