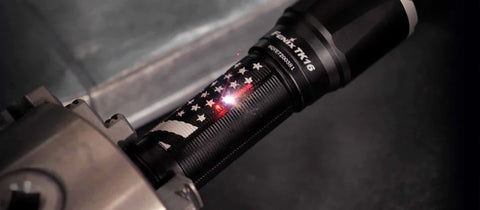 When thinking about holiday gifts for employees this year, consider a personalized flashlight. Giving high-quality custom-engraved flashlights as gifts shows employees you care in two ways. First, long-lasting flashlights will keep them safer, whether they are working at night, inspecting equipment, or illuminating potential hazards.
Second, all Fenix flashlights are made from only the highest quality materials, including aircraft-grade aluminum and premium-type HAIII hard-anodized finish. Giving your employees a high-end gift personalized with your company logo is an excellent way to recognize their contributions to your organization.
When picking flashlights as gifts and to promote workplace safety, it's important to ensure they have adequate brightness, are powered by reliable and long-lasting batteries, and are easy to carry and operate.
Here are some of the best personalized flashlight gifts that enhance workplace safety.
Personalized Flashlight Gifts for Security and Personal Safety
Flashlights can be used for self-defense by disorienting potential attackers with a strobe light. They also are useful for people who work alone or during night shifts, helping them see their surroundings and deter potential threats.
The Fenix TK20R V2.0 light is an excellent choice to give as a personalized flashlight gift, especially if the recipient needs a light for security or personal safety. This light is exceptionally bright, throwing a maximum of 3000 lumens 1558 ft (475 m). It includes a strobe option for self-defense and has a maximum runtime of 48 hours. Personalizing this light for your employee will make this a useful, valued tool and show you care about their safety.
Another excellent flashlight for security and self-defense is the Fenix PD40R V3.0. This light has a strobe and SOS feature for emergencies and to disorient anyone who is threatening the safety of your employee. It has a body clip so it can be attached to a backpack or waistband, but also can stand on its tail and function as a lamp. This flashlight can be customized with one of our existing designs or you can upload a custom image or text.
Personalized Flashlight Gifts for Inspection and Maintenance
If your employees need to do inspection or maintenance for their job, a high-quality flashlight can help them identify defects, leaks, or wear and tear. A top-of-the-line, personalized flashlight will make it easier for them to keep any equipment in working order and increase their safety.
The Fenix WF26R comes with its own charging cradle that can be fixed on a wall, table, or vehicle. When it's stored in the charging cradle the battery is constantly charging, meaning the flashlight is ready to go when your employees need it most. Six output modes, including SOS and strobe, mean the WF26R can be used in total darkness as well as indoors in low-light settings. Custom engrave the head of the light with your own design to personalize this invaluable tool for your employees, improving their safety and making it easier for them to do their jobs.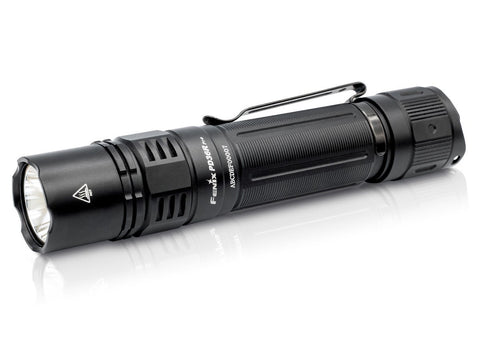 Personalized Flashlight Gifts for Hazard Identification and Confined Spaces
A good-quality flashlight can be used to locate potential hazards like spills, obstacles, or damaged infrastructure, which reduces the risk of accidents for your workers. Flashlights are essential for visibility in confined spaces like tunnels, basements, or small storage areas. A good light can help workers make sure they aren't stepping into a dangerous area when working in small, confined spaces.
A lightweight but powerful light is the Fenix PD36R PRO. This light weighs only 5.96 ounces and fits in the palm of the hand, but features a maximum 2800 lumen turbo mode. Ideal for tough environments, the PD36R PRO is impact-resistant, dustproof, and waterproof underwater to 2 meters. Customize the light for a personalized flashlight gift that will help your employees stay safe, no matter what the conditions.
This Year Give a Practical, High-Quality Corporate Gift
Treat your employees with a personalized gift that will make them feel valued and keep them safe. Customizing a light with Fenix is easy. Just select from an existing design or add your own text, or even upload your company logo. Once you pick a light from our custom shop the process is simple. Whichever light you choose, you can be assured that the final product will be a tool your employee will use for years, both to stay safe on the job and when camping or during a power outage at home. Take care of all your corporate holiday gifts at Fenix!