Considering getting an EDC flashlight? It's the right move! It's highly likely that you will find yourself in a situation where you'll wish you had a flashlight with you. Trust us, phone flashlights aren't it!
However, delving into the world of EDC lights and selecting one that best meets your requirements can feel daunting. That's why we've compiled a list of the top-rated EDC flashlights from Fenix to simplify your decision-making process.
Whether you are building out your EDC kit or simply need a light for your everyday carry, this post will be a useful guide.
We will get straight to the point. Fenix fans have rated the Fenix E03R V2.0, PD25R, and PD35 V3.0 — the best everyday carry lights. Let's see why.
Quick Comparison Chart of Fenix's Top-Rated EDC Flashlights
E03R V2.0
PD25R
PD35 V3.0
Max Lumens:
500
800
1700
Max Beam Distance:
295 ft (90 m)
820 ft (250 m)
1171 ft (357 m)
Max Runtime:
 30 

hours

70 

hours

230 hours
Lighting Modes:
Seven modes including four brightness levels, red light, red flashing, and pulse light
Five brightness levels plus strobe
5 brightness levels plus strobe
Size:
Length: 2.07" (52.5mm) Width: 1.02" (26mm) Height: 0.51" (13mm)
Length: 3.62" (92mm) Diameter: 0.94" (24mm)
Length: 5.28" (134mm) Body: 0.90" (22.8mm) Head: 1.00" (25.4mm)
Weight:
1.06 oz. (30g) including battery
2.75 oz. (78g) including battery
2.95 oz. (83.5g) excluding battery
Battery:
Built-in 400mAh li-polymer battery
One included 16340 rechargeable li-ion battery or one CR123A lithium battery
One rechargeable 18650 li-ion battery (included) or two CR123A lithium batteries
Key Features:

Battery level indicator
IP66 rating makes these top-rated EDC flashlights dust- and heavy splashproof
White and red LEDs for multiple lighting needs
USB Type-C charging port for fast charging

Tail switch for easy on/off operation, side switch for lighting mode selection
IP68 rating makes the light dust and waterproof
Two-position body clip for hands-free lighting
Hidden Type-C charging port for an improved water and dustproof seal

Tactical style tail switch and metal side switch for convenient operation
Anti-roll design and anti-slip knurling
IP68 rating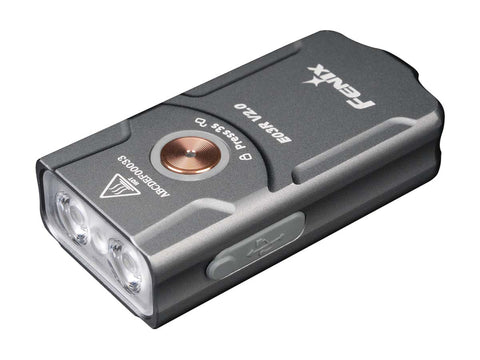 Super-Small & Compact E03R V2.0: Top-Rated EDC Flashlight With Upgraded Performance
The Fenix E03R V2.0 checks all the boxes for the perfect EDC keychain flashlight: compact, lightweight, bright output, and a generous runtime. Smaller than a key fob, this 500-lumen top-rated EDC flashlight easily slips on a keychain. The E03R V2.0 is ideal for everyday activities such as nighttime dog walks, small DIY projects, and evening commutes.
The E03R V2.0 Puts You in Control
Stay in control of your EDC lighting with the E03R V2.0's battery level indicator, letting you see the remaining power at a glance. And with the convenient Type-C charging port, you can quickly recharge the light whenever and wherever needed.
Don't let its small size fool you; this is one of our top-rated EDC flashlights that is built to last! With an IP66 rating, it can withstand heavy splashes and dust, ensuring durability even in challenging environments.
Whether you're embarking on everyday adventures or facing unexpected situations, the E03R V2.0's versatile white light is perfect for your everyday lighting needs. It also had a red light option that preserves your vision in pitch-black settings.
E03R V2.0 Reviews - Fenix Fan Feedback
- Curtis Turnroth
- Greg
Palm-Sized Powerhouse PD25R: Top-Rated EDC Flashlight for Work, Outdoor Adventures, and Everyday Carry
If your everyday routine takes you to work sites, outdoor adventures, and everything in between, you need an EDC light to navigate shifting environments. With its convenient size, the Fenix PD25R is one of our top-rated EDC flashlights that fits perfectly in your palm, pack, or purse while delivering impressive illumination for everyday tasks and unforeseen situations.
The PD25R is Compact but Mighty
With the PD25R, you have complete control at your fingertips. The tail switch enables easy on/off functionality; the side switch swiftly cycles through the five brightness levels and strobe mode. With an IP68 rating, this top-rated EDC flashlight endures when encountering dusty and wet conditions. Further, the upgraded light's hidden Type-C charging port maintains its dust and waterproof seal. Offering a maximum of 800 lumens, this light is excellent for any environment.
The two-way body clip on this top-rated EDC lets you attach the PD25R to your pocket, hat brim, or backpack for easy access providing the convenience of hands-free lighting.
PD25R Reviews - Fenix Fan Feedback
- Roy
- John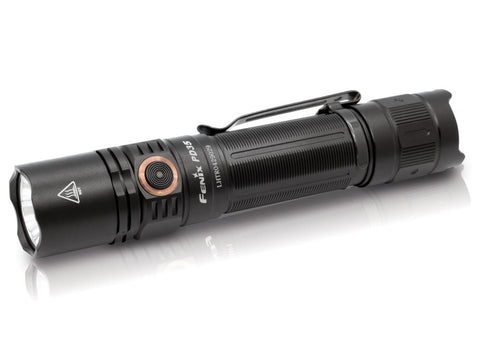 Tactical, Tough, and More Than Enough PD35 V3.0: Top-Rated EDC Flashlight for Outdoor & Work Activities
When you need an all-purpose flashlight for your EDC, the Fenix PD35 V3.0's useful features make it a strong contender for your favorite lighting companion. This is one of our top-rated EDC flashlights and the newest version of one of our most popular flashlight models, the PD35. With its rugged build and max 1700 lumens, the upgraded PD35 V3.0 suits every outdoor activity, delivering unwavering performance even in the most challenging conditions.
The PD35 V3.0 Has Some Cool Features, Literally
Experience seamless operation and lighting mode selection with the PD35 V3.0's dual switch design, enabling quick and effortless control. Designed with user convenience in mind, this is one of our top-rated EDC flashlights. With its heat dissipation fins, the PD35 V3.0 remains cool during extended use. No matter how challenging the environment, this flashlight keeps up with its water and dustproof design, making it your reliable, durable companion for everyday outings.
PD35 V3.0 Reviews - Fenix Fan Feedback
- R.S. 
- Bruce N.
Fenix Top-Rated EDC Flashlights
When it comes to finding the perfect companion for your everyday activities or embarking on thrilling outdoor adventures, Fenix lights are the ultimate choice. Our collection of top-rated EDC flashlights ensures you never compromise on performance or reliability. But you don't have to take our word for it; our reviews speak for themselves! Join the satisfied customers who have experienced the unparalleled brilliance of Fenix EDC flashlights. Whether you're a hiker, camper, first responder, or simply someone who values quality illumination, Fenix has a flashlight to exceed your expectations.