In the darkest of nights, where most turn back, true adventurers and night warriors emerge.
Whether you're a dedicated runner, an avid athlete, or someone who thrives on pushing your limits, Fenix's best headlamps for night running are game-changers. These exceptional companions guide you through the darkness to victory.
Step into the ranks of trailblazers and revolutionize your night marathon experience with Fenix's lightweight, powerful lights and the best headlamps for night marathons.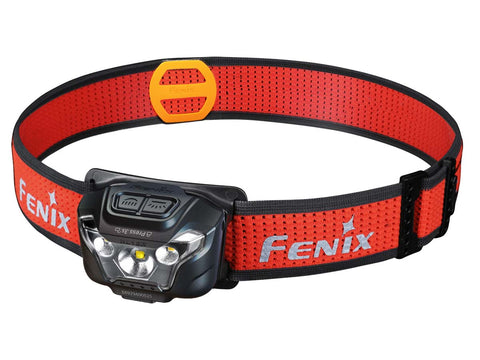 HL18R-T: Ultra-Lightweight Brilliance for Night Warriors
You likely won't notice you're wearing the Fenix HL18R-T headlamp as you focus on keeping pace during night runs. Without the battery, it weighs only 2.2 oz. (63.2g), including the headband. The patented SPORT headband provides a snug fit, ensuring the light stays in place as you push yourself to the limits.
You need a headlamp that keeps pace when running conditions shift. Imagine encountering sudden fog or navigating uneven terrain in darkness. The HL18R-T's versatile lighting modes provide the perfect luminance for every situation. This headlamp ensures you're always prepared, from illuminating every inch of your path with its maximum of 500 lumens to providing an SOS light for unexpected emergencies.
No more concerns about running out of power at the wrong moment; not only does this rechargeable headlamp provide 43 hours of runtime, but you can also switch out the battery pack for three AAA batteries if needed.
HM60R: Unleash Confidence and Conquer the Darkness
Unleashing your true potential in a night marathon hinges on having unshakable confidence, and there's no greater catalyst for confidence than seeing everything around you. The Fenix HM60R, our best-selling headlamp, features three light sources — a spotlight for long-distance illumination, a neutral white floodlight for better color rendering, and a red light to preserve your night vision and handle up-close tasks.
Inclement weather will never be an issue with the HM60R. Its inner waterproof interface ensures reliable operation even with the headlamp immersed underwater up to 2 m.
The HM60R also has a useful stride frequency sensor that delivers optimal brightness to match your stride. Concentrate on finding your rhythm while the headlamp ensures you always have the perfect light intensity.
HM50R V2.0: Your Ultimate All-in-One Headlamp/Flashlight for Epic Night Marathons
Elevate your night marathon experience to epic proportions with the Fenix HM50R V2.0, your ultimate all-in-one headlamp/flashlight fusion. Enjoy the convenience of two powerful light sources housed inside a lightweight body, eliminating the need to choose between a flashlight or headlamp for your run.
Besides four adaptable brightness levels, this rechargeable headlamp features a red light and red flash, further amplifying its versatility. With the convenience of a large all-in-one switch, you can quickly cycle through its lighting modes. During a quick break, warm up, or cool down, see how much power remains in the headlamp at a glance with the battery level indicator.
Crafted with unyielding durability and boasting a water/dustproof design, the HM50R V2.0 is an undeniable frontrunner among the best headlamps for night running.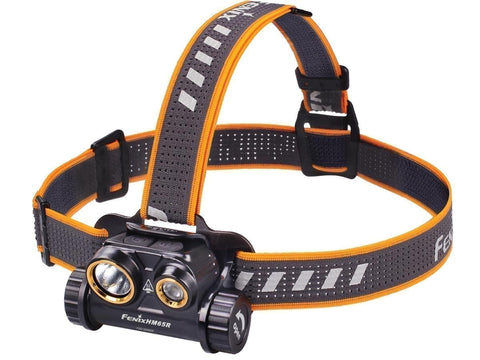 HM65R: Unbeatable Performance and Trailblazing Brilliance To Light Up the Night
The best headlamps for night running stay in place no matter your stride or the terrain. You'll barely notice you're wearing the Fenix HM65R as it lights up the trail. The perforated reflective headband helps make the headlamp lightweight and provides a comfortable wear. Use the optional top headband for a more secure fit.
This headlamp features an independently controlled spotlight and a floodlight. You can also activate both simultaneously to produce a maximum 1400 lumens.
The HM65's new USB Type-C charging port allows for quick charging, perfect if you notice the light has a low battery before starting your run. This headlamp has a generous 280-hour ultra-long runtime, ensuring it provides reliable lighting for long-distance athletic events.
HL32R-T: Enduring Precision Lighting for Nighttime Adventures
With the benefit of precision lighting during night runs, every step is confident, each obstacle is visible, and your focus remains steadfast on conquering the marathon trail. The all-new Fenix HL32R-T headlamp delivers illumination precisely where and when you need it most.
Independent switches control the light's seven convenient functional modes, including a long-reaching spotlight with a maximum of 800 lumens. Wearing the light's also convenient, thanks to its SPORT headband fit.
Additional features cement this headlamp's place on this list of the best headlamps for night marathons. The useful stride sensor elevates your performance, the 150-hour runtime ensures enduring brilliance, and the USB Type-C interface provides quick charging. Made from magnesium alloy, the HL32R-T is lightweight, durable, and 30% lighter than aluminum of the same volume.
Light Up the Path to Greatness With Fenix's Best Headlamps for Night Marathons
As the night falls and the trails beckon, Fenix Lighting invites you to embrace the indomitable spirit of night warriors and adventurers. We meticulously crafted our exclusive line of headlamps and flashlights to propel you further, empower you with unyielding brilliance, and redefine your night marathon experience.
Check out our complete headlamp collection and let Fenix Lighting guide you through every night running challenge.