Backcountry fishing. Coastal fishing. Water hole fishing. Summer provides fishing fans with an ocean of options, encouraging us to grab our poles and favorite bait.
You may have options when it comes to selecting your spot, but one thing that isn't optional is bringing the best fishing light that ensures maximum visibility while navigating murky water, casting into dim spots, and identifying signs of fish.
But how do you find the best fishing light? What features should you look for?
In this post, we dive into must-have fishing light features and showcase Fenix's best fishing headlamps and flashlights to illuminate your adventures.
What Are the Most Important Features To Look for in a Fishing Light?
The best flashlight or best headlamp for fishing should have these features:
Hands-free operation
Generous battery life
Durable body
Compact design
Water-resistant/Waterproof body
Adjustable lighting angle
Fenix lights like the WT25R, HL18R-T, HM61R V2.0, and PD25R are some of the best lights for fishing that come with these features.
Hands-Free Operation With the Best Flashlights and Best Headlamps for Fishing
Whether you venture to unexplored fishing holes in a different state or explore Colorado's best fishing spots, you may gravitate toward the convenience of a fishing light that gives you the option to go hands-free.
With an adjustable head and a magnetic base you can attach to any metal surface, the Fenix WT25R is the perfect hands-free light and right-angled flashlight in one. You can select between four brightness levels, including a maximum 1000-lumen mode, with a large, easy-to-use switch. On its lowest setting, this all-purpose light provides a maximum 29-hour runtime, providing plenty of light for fishing trips that may last longer than planned.
If you are looking for even more hands-free flexibility, the Fenix HL18R-T is an excellent bet. One feature that makes it the best headlamp for fishing is the patented SPORT headband fit system. Adjust the headband to your comfort with its simple click-and-twist feature. And do it using just one hand! Throwing a maximum of 500 lumens, this rechargeable headlamp is sure to become a favorite in your fishing gear kit.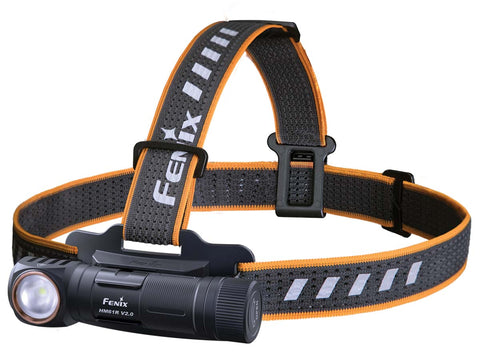 Generous Battery Life for Long Days of Fishing
When the fish are biting and sunlight's waning, the best fishing light lets you stay out on the water for as long as you like.
With a max runtime of 300 hours on Eco mode, the Fenix HM61R V2.0 lights up every moment of extended fishing trips. Cycle through five brightness levels without removing your fishing gloves. Its large switch makes it easy to operate the headlamp and select a suitable mode for the weather and light conditions you are in. With the ability to throw a maximum of 1600 lumens, the HM61R V2.0 is an extremely powerful light you can feel confident with.
Remove the light from the headband to immediately have a right-angled flashlight at your disposal. Not only can you hold it in your hand, but the flashlight's magnetic base makes it easy to attach it to any metal surface. You can also use the belt clip to attach the light to your pocket or fishing vest while keeping your hands free for reeling, cleaning, cooking, or eating.
Durable & Compact Lights for Backcountry Trips
While optimizing your gear for space and performance is a good practice almost all the time, it's crucial when you embark on a backcountry fishing trip. Especially if you plan to spend a lot of time on a kayak or canoe, you will want to keep gear minimal without compromising on performance.
The Fenix PD25R ticks both boxes of compact size and exceptional performance. Measuring 3.62" in length and weighing only 2.75 oz, this durable, palm-sized flashlight is small enough to stash in a tackle box or pack.
While compact, this rechargeable EDC's aluminum build and IP68 rating ensure reliable lighting despite minor impacts, dust, dirt, and sand. Additional useful features that round out this perfectly sized fishing flashlight are a 70-hour max runtime, 800 max lumens, and multiple brightness levels.
Water Resistant/Waterproof (IP68- or IP66-Rated) So You Can Fish Confidently in the Wettest Environments
You shouldn't go out on the water without a water-resistant or waterproof light! The best flashlight or best headlamp for fishing should always offer an IP66 or IP68 rating, which certifies the light can withstand not only a rugged environment but also heavy rain, splashes, dust, and foreign objects.
If you're in the market for an IP68-rated light that also delivers a long runtime, check out the HM61R V2.0. The included rechargeable battery provides a 300-hour max runtime and a battery level indicator tells you when it's time to recharge the light.
The easy-carry PD25R is also resilient against water plunges. With an impressive 2 m waterproof IP68 rating, the light continues to provide reliable lighting after being submerged in water.
Adjustable Lighting Angle That Lets You Adapt to Every Fishing Activity
From baiting hooks and tying knots to examining catches, you'll find yourself needing light at different angles while fishing.
The HL18R-T's 60° tilt mechanism throws its maximum 500 lumens where you need it most. Angle the beam higher for improved visibility when casting or lower for a clear view of your tackle box and bait. The headlamp's adjustable lighting capabilities extend to a narrow spotlight for identifying fish activity. Switch to the wide-angle floodlight to navigate close surroundings or for up close tasks like setting your hook.
When you need a fishing flashlight with adaptable lighting options, such as a brighter light for tying intricate fishing knots and a softer light for navigating your boat without spooking fish, the WT25R is the catch of the day. In addition to four brightness levels, the 105° adjustable head makes it easier to cast accurately and complete close-range tasks by aiming the light beam at the best viewing angle.
Reel in Success With Fenix's Best Flashlight & Best Headlamp for Fishing
The season is perfect and the water's fine for snagging your biggest catch! Whether you need the best headlamp for fishing with an extended runtime or a flashlight that also lets you go hands-free, Fenix Lighting has a selection of high-performance lights packed with must-have features to make this fishing season one for the books!