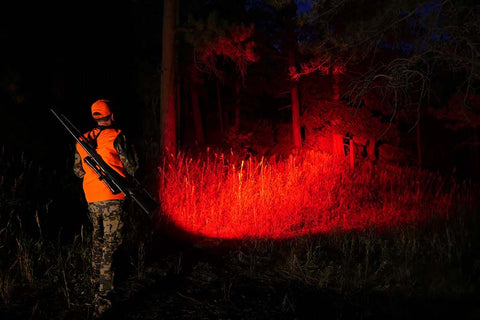 Say farewell to subpar hunting gear that hinders your excursions. Instead, elevate your hunting game with Fenix hunting flashlights and headlamps.
Extend your hunt and stay out past dusk without the worry of being stranded in the dark. Precise tracking becomes second nature and navigating demanding terrains becomes a breeze with these best hunting lights in your arsenal. Fenix hunting headlamps and flashlights feature extended runtimes, lightweight and ergonomic bodies, and adjustable brightness levels.
Step into a realm of unmatched hunting prowess and illuminate your path to success with our list of the best Fenix hunting lights. Prepare for an unforgettable hunting adventure where every moment with the best hunting light shines brighter than the last!
What Are Fenix's Best Hunting Lights?
Fenix's best hunting lights include:
Let's dive into each of these remarkable models to discover the best hunting light tailored precisely to your needs.
PD40R V3.0: A Versatile Lighting Companion That Elevates Your Hunting Prowess
Not just any hunting light, the Fenix PD40R V3.0 is a game-changing light that sets you apart from the pack.
This flashlight features an easy-operation rotary switch, providing lightning-fast access to the perfect lighting mode, leaving no room for fumbling in crucial moments. Effortlessly manage your gear while wielding this powerful tool in one hand.
And the upgrades don't end there — this light's dazzling 3000 lumens reach 23% farther than the previous model, illuminating up to an astonishing 1640 ft (500 m). With an SOS setting for emergencies and a whopping 89-hour max runtime, the PD40R V3.0 is truly the epitome of performance, perfect for any hunting expedition.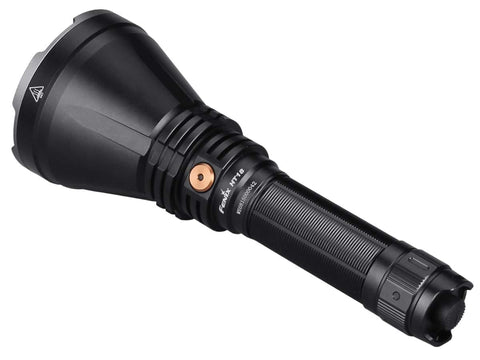 HT18: Illuminate the Wilderness With the Ultimate Long-Distance Hunting Light
When you need the ultimate hunting light that shines a brilliant beam across vast distances, look no further than the Fenix HT18. This powerhouse flashlight is a top contender, ready to unveil a new level of illumination during hunts.
With an solid maximum output of 1500 lumens, the HT18 throws its light a staggering 3,035 ft (925m), effectively lighting up half a mile of wild terrain.
This flashlight measures 7.2" in length and weighs 7.8 oz (excluding battery). Prepare to hunt with stealth and precision, thanks to the red and green filters that preserve your night vision and minimize the chance of spooking prey.
Don't let the hunt end prematurely during extended hunting excursions. The HT18 boasts an impressive 61-hour maximum runtime, ensuring you have reliable lighting every second you're out in the wild.
LR40R V2.0: Shine Brighter …Much Brighter
A high-performing rechargeable wonder, the Fenix LR40R V2.0 can light up a mountain side—perfect for searching for fallen game or just showing off to your buddies at hunting camp.
Boasting a convenient combination of spotlight and floodlight, the LR40R V2.0 unleashes an astonishing 15000 lumens, reaching nearly 1000 yards. Say goodbye to the limitations of darkness as you illuminate your path to hunting success.
Quickly charge its built-in battery pack via the USB Type-C port. Its unique rotating and push-button switches grant you access to 16 lighting modes — from focused spotlight to expansive floodlight, the choice is yours. This flashlight can also be used as a power bank to charge other devices.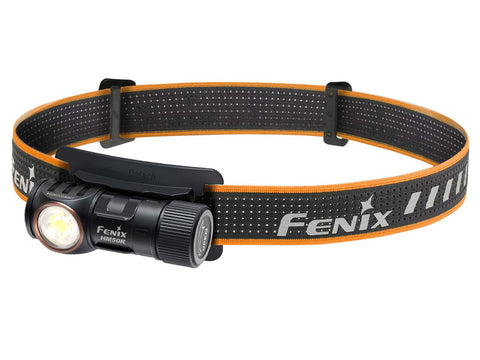 HM50R V2.0: A Versatile Hands-Free Hunting Light
Embrace the ultimate hands-free hunting light experience with the Fenix HM50R V2.0 headlamp. This lightweight powerhouse weighs only 2.75 oz. (78g) with the battery and headband and emits 700 lumens of light. With a 180° lighting angle, you can aim the beam precisely where you need it.
Switch to the red light mode for up-close tasks and to preserve your vision. In emergencies, the red flash serves as a noticeable signal to others. Detach the HM50R V2.0 from the band and use it as a convenient right-angle flashlight. Use the body clip to attach the light to your pocket, belt or hunting pack for continued hands-free lighting.
Adapting to any situation, this hunting light's rugged build can withstand dust, water, and impacts, conquering the most challenging hunting conditions.
HM60R: Power, Precision, and Adaptability in an All-Purpose Hunting Headlamp
Illuminate your path to hunting success with the Fenix HM60R headlamp — the ultimate all-purpose lighting solution. This headlamp boasts three light sources to meet all your versatile hunting demands: a spotlight, floodlight, and red light. Choose from four spotlight levels, three floodlight levels, a red light, and a red SOS for emergencies — making this headlamp the Swiss Army knife of hunting lights.
From up-close tasks to spotting signs of prey and finding essential hunting gear, the HM60R has you covered. With its superior color rendering while using the floodlight and vision-preserving capabilities while using the red light, you'll conquer the wilderness with unyielding confidence. The HM60R's red light mode is a stealthy, invaluable feature for hunters, preserving night vision and preventing spooking prey.
Braving extreme conditions like heavy rain or snow? This rechargeable headlamp is built tough, with IP68-rated dustproof and waterproof protection. Its industrial components ensure it shines strong, no matter the harsh hunting environments.
Hit Your Mark With the Best Hunting Light From Fenix
As you embark on your next hunting escapade, remember that the key to success is having the best hunting light by your side. Fenix's hunting flashlights and headlamps are your ultimate allies, offering unmatched precision, resilience, and versatility. Track down the next addition to your arsenal on our website, where our complete collection of hunting lights awaits.