When choosing a tactical light, performance is key. You want efficiency, power, and extreme functionality. In a high-stakes situation, your tactical light can be used for self-defense by temporarily blinding an assailant or even as a striking tool.
While you can choose from a variety of features and options, all top-rated tactical lights share a few general characteristics.
What are Some Must-Have Features on Tactical Lights?
All top-rated tactical lights should be able to perform well under any conditions, including rugged and volatile environments. You will want to look for high lumens and a rugged build including hard-anodized finishes, toughened ultra-clear glass lenses with anti-reflective coatings, and a powerful beam.
Although there's not one correct tactical light for every person, the top-rated tactical lights all maintain their functionality, performance, and features during use and while recharging.
Selecting the best light for your duty belt is an important consideration that depends on its primary use.
While you'll mostly use it for illumination, you may also want to look for a tactical light that can serve as a defense tool when needed or be able to switch modes to meet your shifting needs.
The Four Most Important Top-Rated Tactical Light Specs
1. Brightness
Look for a tactical light with a high-lumen output. Higher lumens provide a brighter and more effective beam. For duty use, a light with at least 500 to 1000 lumens is recommended. However, be sure to balance brightness with battery life as extremely high lumens can drain batteries quickly. A top-rated tactical light for brightness is the Fenix TK20R V2.0.
This rechargeable flashlight features an incredible performance by throwing a maximum of 3000 lumens 1558 ft (475m).
Durable and rugged, with an IP68 dustproof and waterproof rating, the TK20R V2.0 can fit in your back pocket as well as on your duty belt.
The instant-on strobe feature works to disorient attackers.
2. Size and Weight
When choosing your tactical light it's important to consider what else you have on your duty belt. Bulky or heavy lights can become a burden during extended use. The Fenix PD25R is a lightweight but powerful choice if you have a duty belt that holds several types of gear.
The PD25R is a palm-sized tactical light, 3.62 inches long and weighing only 2.75 ounces, with a two-position body clip for hands-free use.
The tactical tail switch gives you instant power activation, along with a side switch for selecting one of the six modes.
The light produces a maximum of 800 lumens at 820 ft (250m) from an included 16340 rechargeable Li-ion battery or one CR123A.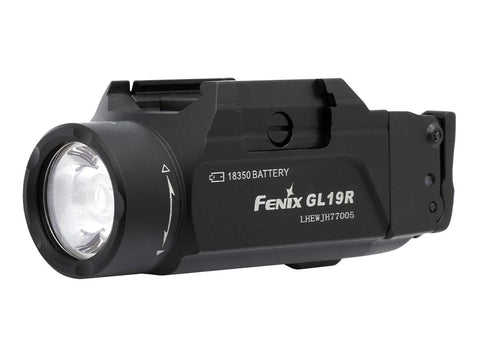 3. Weapon Mounting
In extreme situations where bright light and your weapon drawn are required simultaneously, look to a weapon mounted flashlight to meet that need. The Fenix GL19R Tac Light is a weapon light that attaches to the barrel of a pistol and works for both left and right-handed shooters.
The GL19R Tac Light easily attaches to full-size (and some compact) pistols with a Glock or Picatinny rail and includes a quick-lock mechanism so you can easily attach and detach the light from your weapon.
This rechargeable light is capable of blasting up to 1200 lumens across a distance of 689 ft (210m).
Three available lighting modes include two brightness levels and an assailant-disorienting strobe.
4. Battery Life
Longer battery life is important for extended shifts or operations when you may not have access to charging or replacements. The Fenix WF26R rechargeable flashlight with a charging dock is always at the ready with a boot-up battery level indication and low-voltage warning.
When not in use, the Fenix WF26R rests in its own charging cradle so the battery is always at 100 percent—ready to blast a maximum of 3000 lumens.
The tactically efficient, far-reaching beam of 1476 ft (450 m) is optimized for situational awareness and search and rescue.
A battery level indicator keeps you up to date on the battery's available charge. The battery maintains a lasting runtime of 44 hours.
After considering the brightness, size, weight, mounting options, and battery life, take some time to read the product reviews. The perspective of other users is often helpful in finding the precise top-rated tactical light that works for you. A tactical light is an essential tool for police, military, or law enforcement. When you are in the field, whether you are patrolling and searching or inspecting and defending, you need a light that's tough but compact with a reliable battery and rugged construction. Fenix builds top-rated tactical lights designed for all tactical applications, so you can be in control and aware, day and night.