It's the perfect season to explore rugged terrains, challenging trails, and untamed roads. To fully illuminate every inch of your path and experience the adrenaline-fueled thrill of off road adventures, you need a bike light designed for the trail-less-traveled.
With their durable designs, useful features, and versatile lighting modes, Fenix bike lights are the ultimate lighting gear. We've handpicked the best off road bike lights to take on your next outing, so you can stay safe.
What Are Fenix's Best Off Road Bike Lights?
These Fenix bike lights are some of the best on the market:
Below, we'll explore these lights and their useful off-roading features in more detail.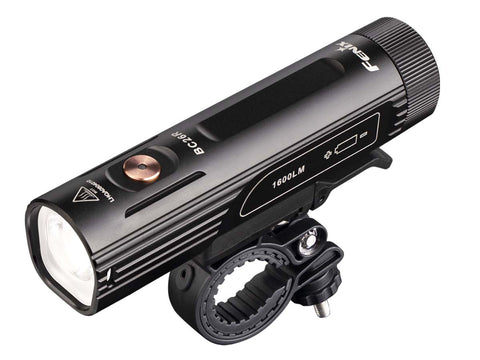 BC26R: Versatile Mounting Options To Conquer Every Trail & Trial
Different bike trails and off-road environments have specific lighting demands. While some trails may require long-reaching beams, others will demand multiple modes or mounting options.
An adaptable design makes the Fenix BC26R one of the best bike lights for off-road adventures. Not only can you easily attach or remove the light with the included quick-release bike mount, but you can also use it as a flashlight to explore more of the trail. Use the Fenix ALD-08 bike helmet holder to mount this bike light on your helmet. Check out this helpful guide if you need a refresher on mounting your bike on your handlebar, tail light, or helmet.
The light's versatility extends beyond its three mounting options. Illuminate every inch of the trail with a maximum of 1600 lumens of light thrown across a distance of 554 ft (169 m). When you're in the zone and ready for some extra miles, the BC26R's 65-hour max runtime keeps up with you. While turning corners or biking in open spaces, the bike light's 100° wide-angle floodlight eliminates dark spots.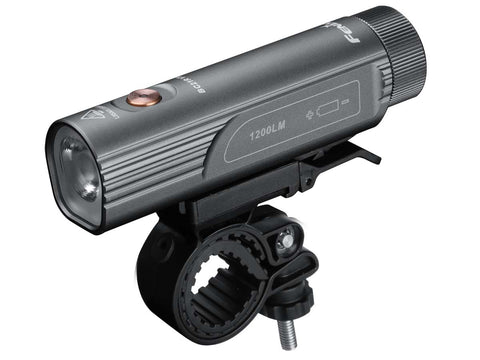 BC21R V3.0: Multiple Brightness Levels for a Variety of Environments
From rocky slopes and dirt paths to coastal areas and arid landscapes, there are few environments we can't access on a bike. To navigate off-road areas confidently without breaking your rhythm, use one of the best off road bike lights with multiple brightness levels.
With the Fenix BC21R V3.0, you can access four brightness levels easily. When your lighting conditions or environment shift, adjust the light mode with one hand while keeping the other safely on the handlebars.
The off-road bike light's additional useful features include 1200 lumens of far-reaching light, a generous flood beam for maximum visibility, an impact-resistant body that withstands the most demanding off-road environments, and a battery level indicator.
BC30R: Extended Runtimes To Explore More of the Great Outdoors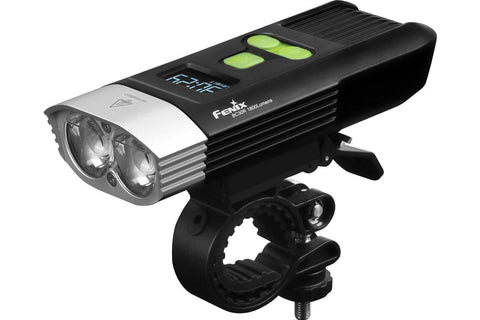 One of biking's greatest pleasures is the opportunity to challenge yourself and improve your physical fitness. Pushing your limits also lets you see more of the great outdoors, which is a bonus! When you're ready to test your handling skills or endurance, don't let a dying bike light keep you from going all out.
The Fenix BC30R is designed for longer rides when you want to explore or break away from riding along paved roads. With a max runtime of 36 hours on its lowest setting, you'll have plenty of power to undertake long rides. The bike light also features Fenix's first digital display screen, providing exact runtime readings, light output modes, and the battery level. You'll know how much power remains in the battery at a glance, so you can decide whether to keep going or pause for a break. The light's micro-USB charging capabilities provide flexible charging options.
The dual distance beam system is another feature that makes the BC30R one of Fenix's best off-road bike lights. This innovative system splits the light to illuminate both far-off distances and the immediate area directly in front of you simultaneously. Whether you need to see far down the road or focus on your tire for precise biking, the BC30R ensures that both areas are equally illuminated, providing unmatched versatility.
Overcome Challenging Terrains With Fenix's Best Off Road Bike Lights
Fenix's bike lights help you confidently tackle every off-road biking adventure with precision and control. If you're having trouble choosing between the above options, don't miss our ultimate bike lights guide. The post is packed with helpful information to teach you everything you need to know about bike lights. Whether you're exploring dense forests, tackling steep descents, or embarking on epic summer adventures, Fenix's best off road bike lights enhance the thrill.