Biking is one of those hobbies that keep on giving. It provides an excellent workout, allows for exploration, fosters skill development, and maybe even encourages camaraderie with your biking group. There are several advantages to being a biker.
However, it can feel impossible to take this hobby to the next level without shelling out big bucks for gear.
With Fenix bike lights though you don't need to let the fear of emptying your wallet weigh you down. With high-performance features, versatile designs, and durable builds, Fenix bike lights are a simple, yet effective way to illuminate your path without breaking the bank.
Why Splurge on Bike Lights When You Don't Have To?
You may think you need to spend big bucks to get the best features but that couldn't be further away from the truth. While some expensive bike lights may give you tons of additional features, with Fenix, it's easy to find bike lights that go the extra mile without costing a lot.
Let's put the spotlight on three exceptional budget-friendly bike lights that illuminate your path without burning a hole in your pocket: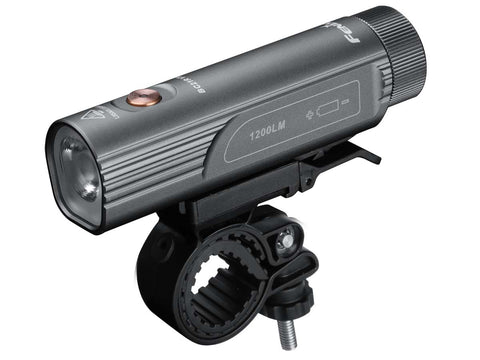 BC21R V3.0 – Affordable Brilliance
Price: $74.95
The Fenix BC21R V3.0 is a stellar addition to your biking gear, offering budget-friendly brilliance that outshines the competition.
With a maximum output of 1200 lumens, this rechargeable bike light transforms your rides into well-lit adventures, illuminating distances of up to 466 ft (142 m). You can choose from four brightness levels to customize your lighting, while the flashing mode ensures you're visible to other road users. No need to fret about the weather – the BC21R V3.0 is dustproof, waterproof, and impact-resistant, ready to tackle any terrain or unexpected spills. With convenient USB-C rechargeability and a battery level indicator, this bike light is your ideal companion for nocturnal journeys that keep you riding long into the night.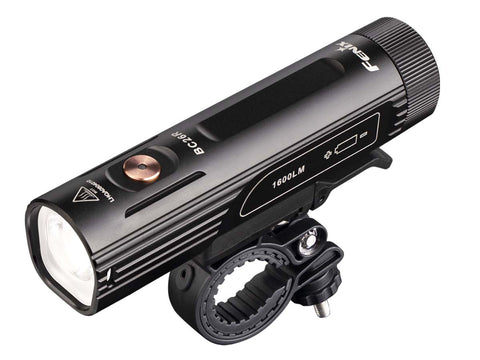 BC26R - Versatile and Long-Lasting Illumination
Price: $89.95
Sitting at less than $100, the Fenix BC26R is one of the most versatile, budget-friendly bike lights on the market.
This lightweight marvel comes equipped with a rechargeable 5000mAh li-ion battery, delivering an impressive 1600 lumens of brightness to light up your path.
What truly sets it apart is its ability to keep you rolling for extended periods – up to a staggering 65 continuous hours on the lowest brightness setting. Its expansive 100° floodlight beam ensures a wider field of view, making turning corners a breeze. Plus, attaching and detaching the BC26R is a breeze with the quick-release bike mount included. And let's not forget its durability – this bike light is dustproof, waterproof, and shockproof, so you can confidently conquer any terrain, whether it's a city commute or a mountain adventure. With the Fenix BC26R, you get unbeatable performance and affordability rolled into one, ensuring that your path stays brilliantly lit throughout the night.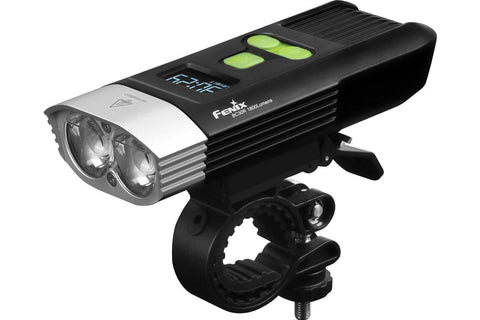 BC30R - The "Go Anywhere" Bike Light
Price: $129.95
Fenix's first light with a digital display, the feature-packed Fenix BC30R is a steal.
With its precise runtime readings, customizable output modes, and real-time battery life updates, this powerful bike light puts you in total control.
Offering a maximum output of 1800 lumens and a remarkable beam distance of 528 feet, the BC30R ensures you never miss a detail of your surroundings. Its extensive 36-hour runtime means you can explore without worrying about recharging constantly. The built-in 5200mAh rechargeable battery with micro-USB charging provides convenience and flexibility. In addition, its remote pressure switch activates momentarily on 1800 lumens for super-bright illumination.
With the Fenix BC30R, you get the best of both worlds: budget-friendly affordability and a treasure trove of features that'll light up your ride like never before.
Fenix Bike Lights Take You Far Without Breaking the Bank
Fenix bike lights are your ticket to an affordable, high-performance cycling experience. From the BC21R V3.0's budget-friendly brilliance to the BC26R's versatile and long-lasting illumination, and the feature-packed BC30R, Fenix has your back. With precise runtime readings, customizable output modes, and real-time battery life updates, these lights are more than just budget-friendly; they're your partners in adventure.
So, why splurge when you don't have to? Explore Fenix bike lights and discover the perfect companion to keep you riding long into the night, all without emptying your wallet. It's time to shine a light on your biking journey – the Fenix way.