Fenix's wide selections of flashlights are all incredibly bright. More energy-efficient, brighter, and longer-lasting, our flashlights are arguably the best flashlights on the market and that is partly due to their LED bulbs. With incredibly powerful lumen outputs and long-lasting battery life, our flashlights were designed to provide you with ultra-bright light. With such a wide variety of powerful flashlights, deciding on the best one can be difficult. While every Fenix flashlight is equipped with high lumens, there is one Fenix flashlight that is undoubtedly the brightest.
What Is The Brightest LED Flashlight From Fenix?

The LR40R is the brightest LED flashlight from Fenix. At only 6.1" this flashlight can throw an astounding 12,000 lumens 2,100 feet (700 yards). Popular with search and rescue, outdoorsmen, and hobbyists, you'll always have the brightest flashlight with the Fenix LR40R.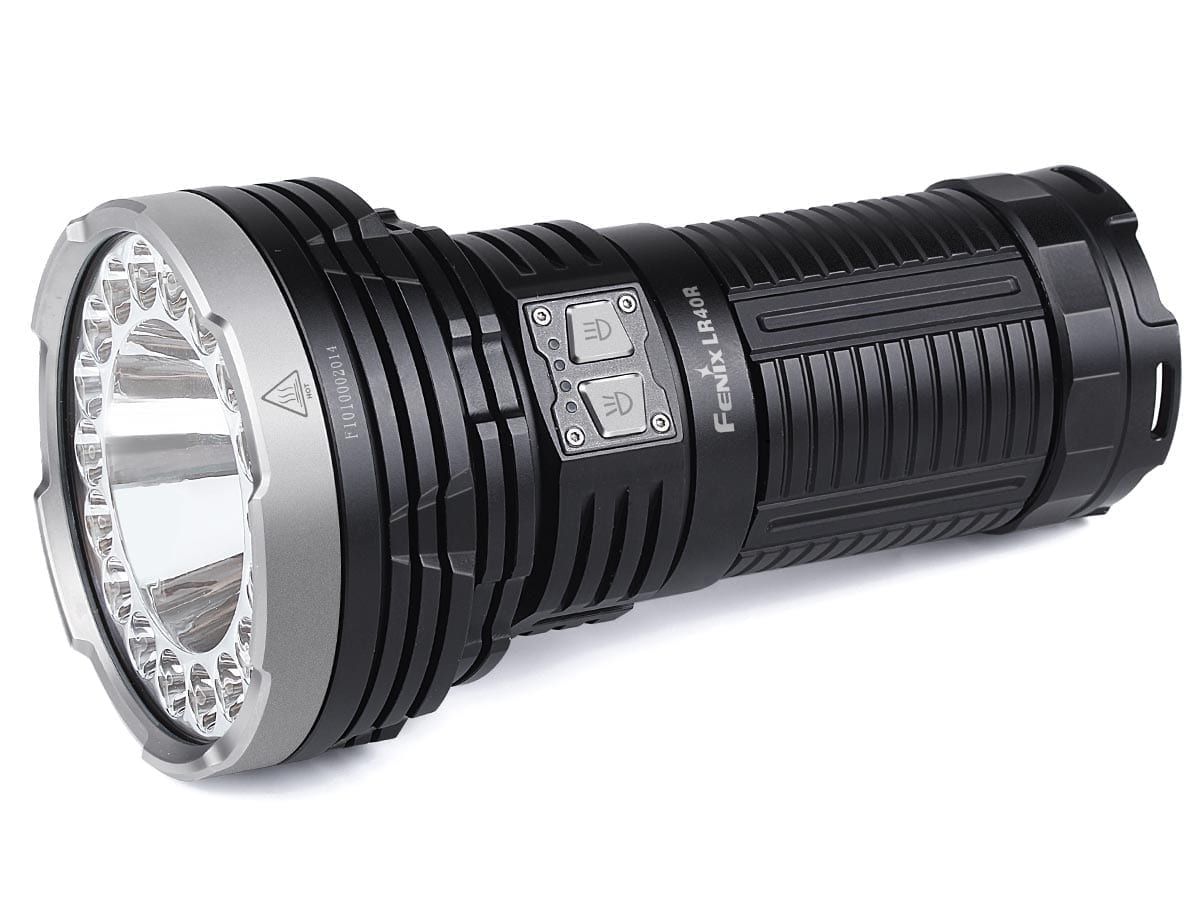 Spotlight

Floodlight

Mode
Turbo
High
Med
Low
Turbo
High 11
High 1
Med
Low
Strobe
SOS
Output Lumens
1000
350
150
50
12000
6000
3000
1000
350
3000
350
Runtime
7h
22h
44h
92h
45 min
2h
3h
7h
22h
-
-
Distance
2100ft (640m)
1316ft (401m)
863ft (263m)
535ft (163m)
1345ft (410m)
968ft (295m)
656ft (200m)
377ft (115m)
213ft (65m)
-
-
Intensity
101960cd
40105cd
17239cd
6608cd
41867cd
21510cd
9830cd
3142cd
915cd
-
-

*The Turbo runtime is the cumulative time when overheat protection active.
SIGNIFICANT FEATURES OF THE LR40R
The LR40R is an incredibly powerful flashlight. Throwing 12,000 lumens 2,100 feet (700 yards), the LR40R has the ability to light up entire areas with ease. It's LED bulb allows for a brighter and more intense beam while maintaining a longer charge. Not only that, but this high lumen flashlight comes packed with a number of other amazing features that were built for your convenience. While the LR40R is the brightest LED flashlight Fenix offers, it is also rechargeable and it has 11 different lighting modes. This high-quality light doesn't stop there with even more great features.
The LR40R Is an LED Rechargeable Flashlight
Fenix rechargeable flashlights make charging your flashlight easier than ever before and the LR40R is no exception. This easy to use flashlight has the ability to charge via any USB type-c port, simply plug the LR40R into any standard outlet, a vehicle with a USB port or adapter, or a portable power block. The LR40R has an exceptionally fast charging time and can get fully charged in as little as 3.3 hours. You can then use the LR40R on low mode for 92 hours or high for 7 hours. With easy charging and longer battery life, you can always count on the LR40R to provide you with the light source you need.
While this light is extremely easy to charge, it also acts as a power bank. The multi-functional LR40R supports USB discharging and can be used to charge your other devices if you are ever in a pinch.
Floodlight and Spotlight Lighting Modes
With both spotlight and floodlight, this flashlight provides users with 11 different lighting modes including a strobe, SOS, and turbo mode to cycle through. The LR40R has 4 spotlight outputs and 5 floodlight outputs. It combines spotlight and floodlight to throw its maximum output of 12,000 lumens but also provides users with low brightness levels for softer lighting. 
While both modes reach long distances, the spotlight and floodlight modes have specific purposes. The spotlight beam is more concentrated and is used to clearly identify things in the distance. The floodlight beam is used to light up entire areas for a clearer view of what is around you. Whether you combine the two for extreme lighting or use the beams individually, provide yourself with the ultimate bright lighting source with the LR40R.
LR40R EASY OPERATING FEATURES
This ultra-bright light has easily accessible dual stainless steel side switches for quick on and off access. Turn on the brightest flashlight by pressing either side switch and holding it for 3 seconds. Cycle through the 11 different lighting modes by pressing either side continually (depending on whether you are on floodlight or spotlight) or use both. When you are done using the LR40R, simply press and hold either switch again and hold again for 3 seconds to turn it off.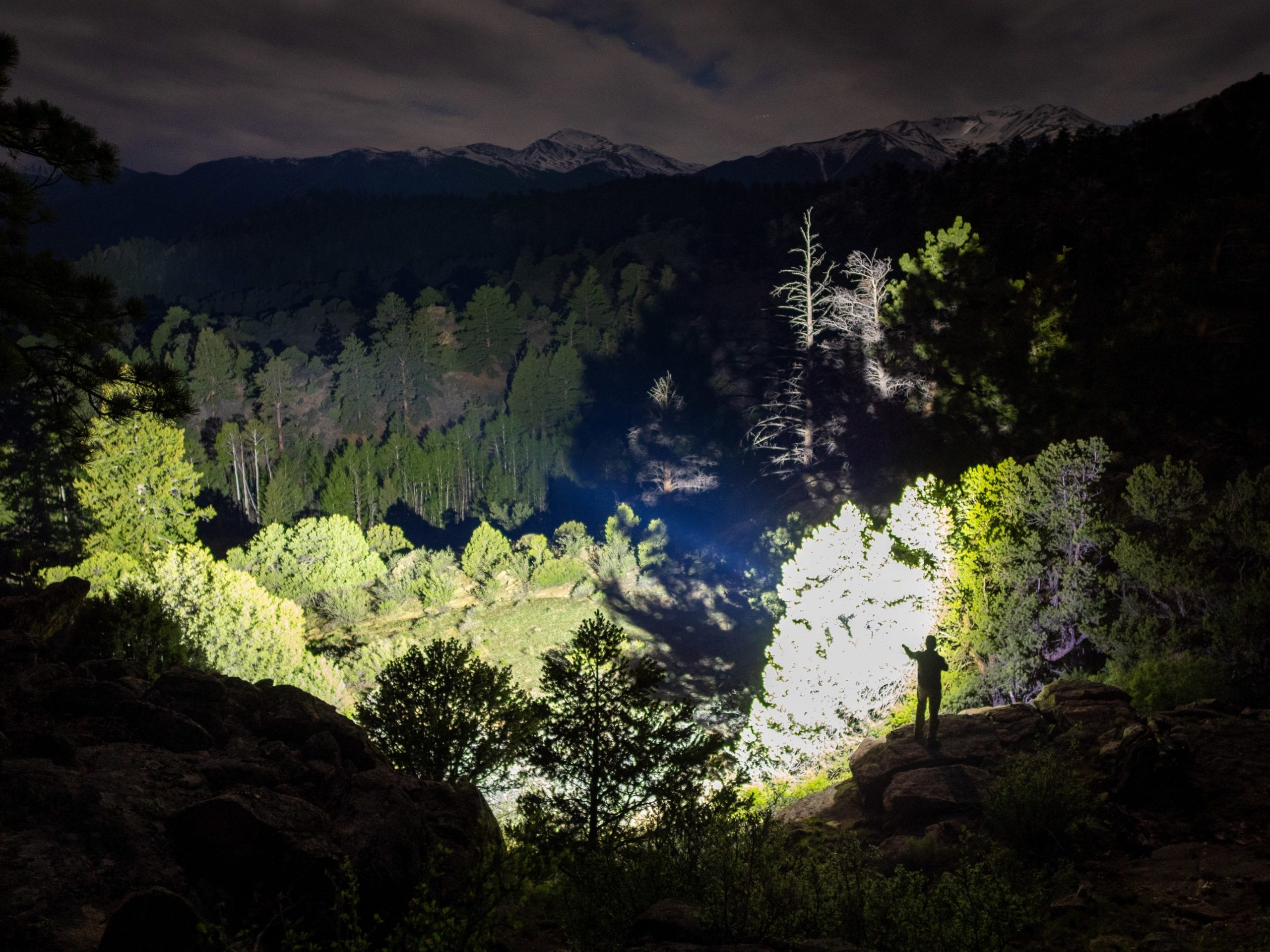 Outdoors and Backcountry
With its spotlight and floodlight modes, the LR40R is the perfect companion for extreme situations. Use the spotlight to narrow in on something you see close up or far away and use the floodlight to see your entire surroundings. Cycle up to 12,000-lumens to literally light up an entire forest or use 50 lumens on low mode to light up-close objects. No matter how you use it, with the LR40R you will always have the option to go up to 12,000 whenever you want to.
Emergency and on the Job
While this powerful light is the ultimate camping and outdoor flashlight, it's incredibly high lumen capacity and user-friendly features make it one of the best bright flashlights to have on the job. Specifically, this flashlight would be great for search and rescue and other emergency situations. At 6.1" and weighing under 18 oz, easily stache this light in your bag and bring it along on the job. Light up hard to see areas and watch as it helps find objects in hard to see places.
With such a wide range of uses and the many user-friendly features it has, the LR40R is a best selling Fenix flashlight. This light is loved by many and serves many different purposes for its users. From camping to every-day use, read some of the 5-star reviews the LR40R has and see for yourself how amazing this flashlight really is.
"This thing is bright! I like that you can easily choose the brightness. I've seen others say it's heavy. That's the feel of a metal flashlight in your hand, not plastic. The size is great too. It's small so you can pack it away easily. The only drawback is that it does get hot when you run it at its brightest. But if you need to use it for a long time, just knock it down one setting and it won't get as hot. This is by far my favorite flashlight!"
"Best Flashlight I ever had. Lights up the night like daylight!!"
"Love the flashlight! Really like that it has both a flood and spot capability. I like the weight of the flashlight and the quality feel in my hand… Easy to use and powerful!"
THE BRIGHTEST LED FLASHLIGHT FROM FENIX
This insanely powerful and reliable light is not just loved for its 12,000-lumen throw, but also for the number of other incredible features it possesses. From it's rechargeability to its floodlight and spotlight features, the LR40R is not only one of the brightest flashlights on the market but it is one of the best flashlights all around. Try an LR40R yourself and it will be hard to go back to a smaller flashlight ever again.