Thanks to LED flashlight technology, many of Fenix's flashlights are incredibly bright. There is one stand out though that goes above and beyond what any other flashlight in 2020 can do: the LR40R. This high-performance flashlight can produce an impressive 12,000 lumens and comes with a number of other amazing features besides just a high lumen output. The LR40R is an excellent all-around flashlight for both lighting up your property and even to use in the backcountry. With the LR40R, fully illuminated surroundings are just a click away.
What is the Brightest Fenix Flashlight in 2020?

The Fenix LR40R is the brightest Fenix flashlight at 12,000 lumens. It blasts these 12,000 lumens an astonishing distance of 2,100 feet (640m). Light up your entire surroundings with just the click of a button when you have the Fenix LR40R, the brightest Fenix flashlight in 2020.
Overview of the LR40R's Stats
Spotlight

Floodlight

Mode
Low
Med
High
Turbo
Low
Med
High I
High II
Turbo
Strobe
SOS
Output Lumens
50
150
350
1000
350
1000
3000
6000
11000
3000
350
Runtime
92h 18min
44h 31min
22h 30min
7h
22h 44min
7h 15min
2h 50min
2h
45min
–
–
Distance
535ft (163m)
863ft (263m)
1316ft (401m)
2100ft (640m)
213ft (65m)
377ft (115m)
656ft (200m)
968ft (295m)
1345ft (410m)
–
–
Intensity
6608cd
17239cd
40105cd
101960cd
915cd
3142cd
9830cd
21510cd
41867cd
–
–
Significant Features of the LR40R
The LR40R is an LED Rechargeable Flashlight
The powerful LR40R is not only an extremely bright flashlight, but it also contains a wide range of features to make it the ultimate high-powered flashlight choice. This flashlight combines spotlight and floodlight to throw 12,000 lumens 2,100 ft (640 m). The LR40R is a USB rechargeable LED flashlight using a Li-ion battery pack. In an emergency though, this flashlight can also be used with one to four 18650 batteries. With the ability to be recharged in as little as 3.3 hours this is a great flashlight for regular use. In a pinch, it even has a discharge function and could be used to power other devices as well.
11 Different Lighting Modes
With such raw power, it's not surprising the LR40R is equipped with a number of different light modes for when you don't quite need a blinding 12,000-lumen output. This light also contains SOS and strobe modes for your safety.
The LR40R has two different main settings: the spotlight and the floodlight. Clearly identify things using a more narrow concentrated beam on the spotlight mode or use the floodlight beam to light up surrounding areas. The spotlight settings range from 50 lumens to 1,000, and the floodlight goes from 350 lumens all the way up to 11,000. Feeling adventurous and want to combine the two? Put them both on high to reach that incredible 12,000-lumen max.
Operating the LR40R
Easily operated by the stainless steel side switches, the LR40R is turned on by holding down either spotlight or floodlight button for 0.5 seconds. Simply cycle through the different lighting modes (using either spotlight or floodlight or both) by clicking either button depending on what mode you're on. Turn the flashlight off by holding down the button for 0.5 seconds. The lockout function is also user friendly to avoid accidental activation by simultaneously pressing the two switches for 3 seconds. To unlock it, simultaneously press the two switches again for 3 seconds. The easy operating instructions make this device not only extremely powerful but also incredibly user-friendly for any situation.
Other Great Features
At 6.1" in length, the LR40R is relatively small in size compared to other flashlights that produce this much power. It has dual stainless side switches for easy spotlight or floodlight selection. Durable and reliable, this sturdy flashlight also has an ultra-clear glass lens with an anti-reflective coating and a lockout function. The lockout function, which is easily accessible via the two stainless steel side switches, is used to avoid accidental activation if transported or stored. Once you use this flashlight and experience the raw power of the LR40R, it will be hard to use a different flashlight ever again.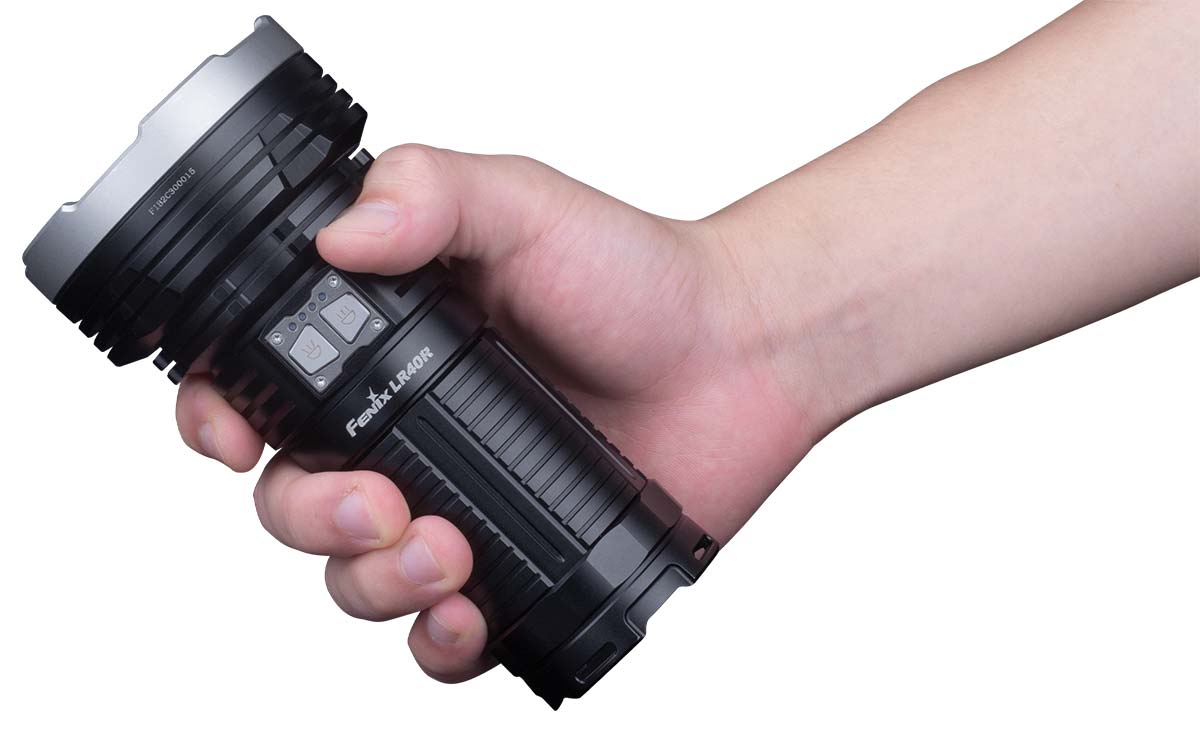 Uses of the LR40R
Ultra-Bright Outdoor Flashlight
The bright lumen capacity of this flashlight makes it the optimal lighting device for exploring unknown outdoor areas or for monitoring your property at night. You can use the lower 350-lumen spotlight mode as a default setting, but cycle up to the 12,000-lumen spot/floodlight combo in a flash when you need it.
Don't think though that just because this flashlight is larger than other Fenix lights that it is difficult to use. While the LR40R is one of the heavier flashlights Fenix offers, it is considerably small and easily handheld for the power it can emit. Don't use a close-range flashlight to do the job that a more powerful and long-range light like the LR40R excels at.
Search and Rescue
With the astonishing capabilities of the LR40R, it's no surprise that this light is popular with search and rescue and first responders. With its 12,000 lumens and 12,100 feet (640m) reach you can easily assess your surroundings or locate people and items in a darkened area. Many flashlights with these capabilities are very large and inconvenient to transport, but not the LR40R. At 6.1" long and 17.6 oz (without batteries) this flashlight is easy to add to your gear pack.
Reviews of the LR40R
The LR40R is one of the best and brightest lights on the market. But don't just take our word for it – used and purchased by many Fenix customers, the LR40R has many 5-star reviews on our website. Here are some of the amazing reviews from satisfied customers:
"This flashlight is so strong if you shine it on a man it might knock him right off of his feet! Seriously. I'm extremely impressed with the product, it exceeded my expectations. Unreal amount of power … This company is solid and they are good to their customers. The products are the best in the market and I will be buying exclusively from Fenix whenever I am looking to get another flashlight. I would recommend it to everybody. Thank you!"
Jeffrey H.
"AMAZING FLASHLIGHT. Best one I have ever had. Really like that it has a separate spot and floodlight."
John E.
"Wow! What a wonderful flashlight! Our home abuts over 9000 acres of forest and we always have wild visitors. It is wonderful to have a flashlight I can count on to light up my visitors at a distance – not 10 feet away!!"
Anonymous
The Brightest Fenix Flashlight
Fenix is proud to produce such an intense, powerful, and reliable flashlight. Loved not just for the 12,000 lumens it can emit, the LR40R has many other features that make it an excellent lighting source. With its wide range of features from LED bulb, to rechargeability, to its spotlight and floodlight, the LR40R has proven itself time and time again to be one of the best flashlights in the industry. Throwing 12,000 lumens at only 6.1" tall, the brightest Fenix flashlight in 2020 is undoubtedly the LR40R.