When Fenix debut their TK65R which was marketed for Law Enforcement use I knew I wanted to purchase one. I had wanted to get a different flashlight and after convincing the wife I needed it I placed my order. Living in northern Alaska, the darkness of winter lasts 20 hours a day at the winter solstice so I knew I could put the flashlight to good use.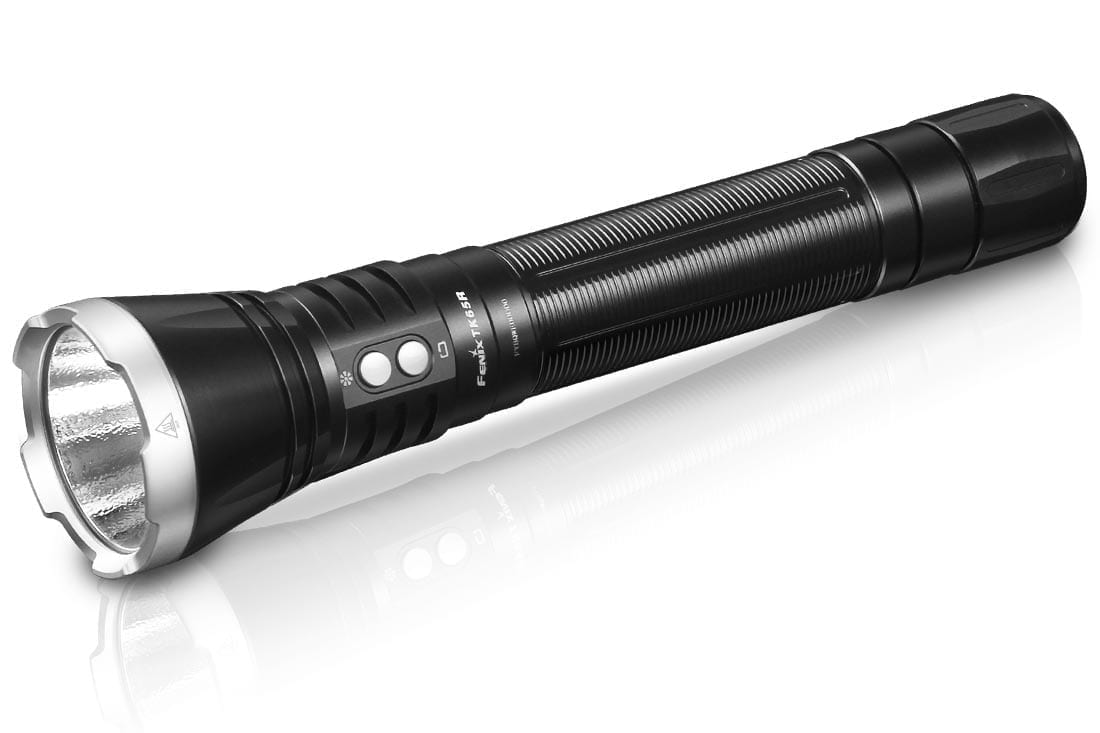 Fenix shipped the flashlight fairly quickly and before long I had the flashlight at my house. The TK65R is packaged inside a box which doesn't allow you to see the product without peeking inside. This can be frustrating when purchasing an item however I felt Fenix did a good job of putting an accurate photo of the flashlight on their box as well as all the pertinent info one would need. Opening the box revealed a well packaged product with each item surrounded in padded foam. I removed the flashlight which was larger than I anticipated even though the dimensions given were accurate. The flashlight fit well in my hand and the design was pleasing to look at.
Hefty, Solid, Easy to Handle
One thing which stood out was the weight of the flashlight. Fenix advertises the TK65R to weigh in at 14.74 oz. This however is without the battery. Assuming you wish to use the 3200 lumens of awesomeness you should expect your flashlight to weight in closer to 20 oz. or 1.68 lbs. (according to my scale). This gives the TK65R a bit of heftiness to it and a solid feel. If everything has gone wrong and you need to use it as a club I don't think it would disappoint. This being said in everyday use I didn't have any issues with the weight.
On the head of the flashlight is a stainless steel strike bezel which stands out due to it being silver in color. The CEO of Fenix Lighting US Beau Shrum was kind enough to answer a few of my questions and informed me the strike bezel shouldn't have any issues breaking a car window, especially if one of the corners of the strike bezel is used. I unfortunately wasn't able to test this out for myself. Near the head of the flashlight deep groves were cut into the aluminum for added grip. Along the body of the flashlight a number of smaller grooves were added with the intent to keep the flashlight from slipping out of the users hands.
No Surpises on Battery Life with LED Display and Covered Charging Port
On the end of the flashlight is a small button which will illuminate an LED display of lights telling the user the battery level. I actually grew to really like this feature as I didn't have to guess on how much battery was left and I could quickly see for myself. Also located on the end of the flashlight is a micro USB charging port which has a rubber covering.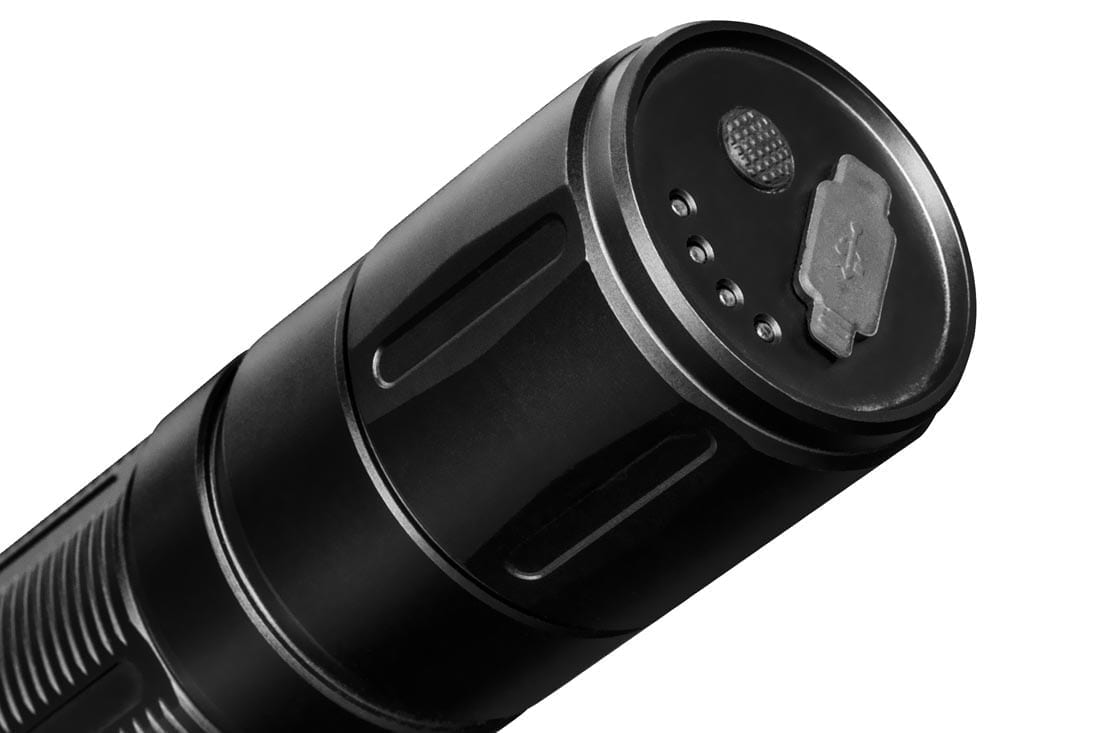 This USB charging port allows you to keep your flashlight charged up virtually anywhere power is available. CEO Beau Shrum confirmed charging from your car or computer shouldn't be an issue or cause any harm to the flashlight.
Impressive Output
Once the flashlight was charged I was impressed with the light output. The TK65R has five different light settings which start out at 30 lumens and proceed to 150, 400, 1000 and finally 3200 Lumens. On top of this the flashlight has a strobe setting as well as an SOS setting. The strobe setting uses all 3200 lumens and is very effective at getting someone's attention. The TK65R has a focused center beam of bright white light which fades out to the side.
Now from the time I received my TK65R to writing my review is about two months. This has given me some time to get real world use out of this flashlight. As a Law Enforcement Officer I have over five years of experience in the field. This certainly doesn't make me an expert, however I do know what I like and don't like with the equipment I use. It is with this critical eye I proceed with my review.
PROS:
This light is bright! Even after two months of use I am impressed with its brightness. I kept my flashlight on 1000 lumens which I used for daily encounters. I would switch over to the 3200 lumens if I wanted to see something at a distance or keep someone from looking at me. When using the flashlight around the house I used some of the other light settings however I didn't bother with them when working.
Fenix boasts a 375 meter range or 1230 feet when using 3200 lumens. I will admit I wasn't able to test this out with a range finder however I do not believe Fenix was fudging when they came up with this number. This flashlight is a beast and is more than capable of reaching out and illuminating objects a typical flashlight cant.
This next observation I don't really consider a pro or con, it's just different. Those in Law Enforcement who are used to throwing the flashlight into the charger when not in use will have to adjust due to this new charging method. When on duty working at night plugging the USB cord into the flashlight requires a little more attention and dexterity than I like to devote to such a random task. Also if you would like an extra battery one can be purchased by calling customer service at (888)775-9996.
Another feature I have grown to like is the ability to lock the flashlight. By pushing and holding the two dual side switches for three seconds the flashlight will blink several times letting you know it's locked. When locked the flashlight can't be used, if someone attempts to use the flashlight it will blink several times and turn off. With the locking feature you can toss the light into a bag and not have to worry about the flashlight accidently turning on. To unlock the flashlight all you have to do is hold the two side switches for an additional three seconds and the light is ready for use.
Finally this flashlight is tough to beat. Right now according to Fenix's web page you can purchase the TK65R for 219.95 dollars. For kicks I went to several other webpages including Streamlight, Nitecore, Surefire and Phoebus Tactical to name a few. I wasn't able to find another flashlight that had the lumens, range and price that Fenix offers.
CONS:
As much as I like the TK65R flashlight Fenix can make improvements. When they marketed it for Law Enforcement they attempted to please a group of people who have high demands for their equipment. Unfortunately there are several areas which almost immediately became an issue for me.
In order to turn the flashlight on you have to hold the on button for half a second and it is the same way to turn the light off. This may not sound like much but when you need light now, waiting for it is quite frustrating! Because of this feature there is no "momentary on" feature. This is when you press the on switch partially and the flashlight comes on. I actually didn't realize how much I use the momentary on feature until I didn't have it.
I asked the CEO Beau Shrum why the .5 second wait to turn the light on. His response was to keep the light from accidentally turning on. While this is probably true it also decreases its usefulness in the field. This was by far the most disliked feature on the flashlight when I was showing it to other Officers.
Second, the side switches are small. I can't believe a light as big as this one has buttons which are this small. Even with no gloves on I found myself having to look at the flashlight to ensure my finger placement so I could turn it on or off at a moment's notice. I had hoped I would become used to this in time however I haven't, and if I have gloves on I can't feel the on/off switch at all.
These two issues could easily be fixed by increasing the size of the on/off switch and requiring a certain amount of force to turn the light on. For example I would set the on/off switch so 3lbs of force is required to activate momentary on and 5lbs of force to turn the light on. In an effort to keep the light from accidently turning on Fenix could set the on/off switch slightly lower than the surrounding body of the flashlight, this would help keep random objects from turning on the light if you toss it into a bag or glovebox. I would also make the on/off switch feel different from the rest of the flashlight by making it rubber or adding small bumps to it. By making this small design change I would know immediately by feel when I found the on/off switch. The second switch could stay the same and just cycle through the different light settings.
Third, and I hate saying this but it has too many features to me. More than once I accidentally clicked past the 3200 Lumen setting only to have to count my clicks (five) to get to the setting I wanted. In a stressful situation when I need light now this is a task I don't want to have to focus on. I would shorten the options to three max (150, 1000, 3200 lumens) or two (1000 and 3200).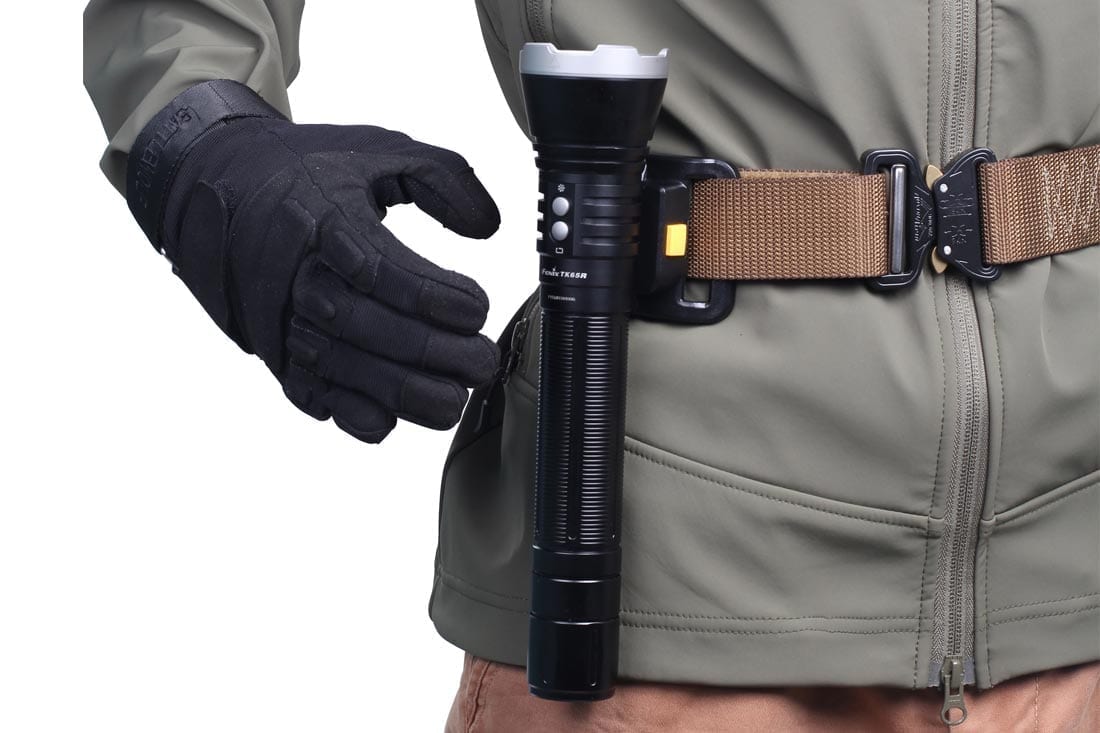 Fourth, the action belt clip. I think this was a good idea however once the flashlight is locked into place it won't swivel. Because of this you have to take the flashlight out of the belt clip to sit down. This may not be an issue if you are primarily on your feet, however for someone who is in and out of the car frequently this becomes a pain. If the flashlight is made to move while still clipped in this would be a very nice feature.
Last of all and this isn't so much of a con but something I think could be done a little better would be the grip on the body. Fenix put forth a legitimate effort however I think a more aggressive approach could be taken. Take for example the Smith and Wesson M&P pistol. This pistol has a grip that practically sticks to the hand. If Fenix took a similar approach the user would have positive control regardless of whether their hands were cold, wet or really dry.
CONCLUSION:
In conclusion, this is a great flashlight and I feel Fenix is short changing themselves by trying to market only to Law Enforcement/Security and Search and Rescue. This flashlight has practical opportunities for construction workers, truck drivers or anyone who is looking for a sturdy light which performs at a high level. For the Law Enforcement group I think if a few changes were made Fenix would have a phenomenal light, one which I would purchase again!