Fenix Lighting's high-performing rechargeable flashlights have a number of remarkable features that make them stand out from other flashlights on the market. From tactical to everyday carry, there is a Fenix flashlight for every situation. While every Fenix flashlight is dependable, Fenix provides users with an even more reliable light source with our rechargeable flashlights. With their incredibly bright light settings, longer runtimes, and convenient USB recharging, Fenix flashlights were created with you in mind. Such a wide selection can make picking the best light for you a difficult task though. We've put together a list of the 3 best rechargeable flashlights in each main category.
What are the 3 Best Rechargeable Flashlights?

The PD36R, LR40R, and TK26R are the best rechargeable flashlights of their respective categories. Extremely versatile, these rechargeable flashlights were built for different purposes. The PD36R is the best all-around Fenix flashlight of 2020, the LR40R provides raw power serving as one of the brightest flashlights Fenix offers, and the TK26R is the best rechargeable tactical flashlight.
The PD36R Rechargeable Flashlight – Versatile Every Day
From its high lumen output to its extremely long run time, the PD36R rechargeable flashlight is unlike any other flashlight on the market. The PD36R is popular for use as a tactical flashlight, it is one of the brightest Fenix flashlights, and it can be an everyday carry flashlight too. At only 5.4" the PD36R can throw an astounding 1600 lumens 928ft (283m). Equipped with a 21700 li-ion battery, the PD36R's battery run time is extended by twice that of a standard 18650 Li-ion battery's capabilities. The high-capacity battery ensures a longer battery life so the PD36R can last for 115 hours on eco mode. You can charge this flashlight with any USB output device or wall adapter via the USB-C port. In a time crunch? With only a 10 minute charge you can have light for 5 hours on Eco mode. With a little more time, you can reach a full charge in only 4 hours.
Other Features of the PD36R
Operating this powerful LED rechargeable flashlight is simple with the tactical tail switch for momentary-on and on/off, and the ability to cycle through six lighting modes using the side switch. By pressing and holding the side switch you can also activate the strobe mode. The PD36R is built with a two-way body clip for everyday carry, popular with law enforcement. Whether it is on your backpack, belt, or MOLLE system, the PD36R is easy to keep on hand because of its small build.
Review of the PD36R
"This is the absolute best flashlight I have ever owned!!! From the overall quality and design to the incredible performance and versatility, this thing rocks!! My only problem is I'm going to have to buy another to keep in my boat!! I can't wait to track deer with it next month! Well done guys!!!"
The LR40R Rechargeable Flashlight – High Power
Named the brightest Fenix flashlight of 2020, this incredibly powerful flashlight will amaze you with what it can do. The LR40R LED rechargeable flashlight can throw 12000 lumens with combined spotlight and floodlight. Optimal for large outdoor areas, the LR40R is not only used for recreation but also for extreme situations like search and rescue. This intense light has USB type-c charging and takes only 3.3 hours to recharge completely. Not only that, but it also acts as a power bank for your other devices as well. Utilize this light on the lowest spotlight mode and the LR40R can provide you with light for up to 92 hours. Conveniently recharge this powerful light and let it provide you with light for long periods of time.
Other Features of the LR40R
The LR40R is truly remarkable for its high lumen output while sizing at only 6.1" long. At such a convenient size, the LR40R can also cycle through 11 different lighting modes. Simply use the dual stainless steel side switches and select a floodlight or spotlight mode (or both) for your preferred lighting. This LED flashlight is also equipped with a battery level indicator to check the status of your light at any time and easily recharge it when necessary.
Review of the LR40R
"This flashlight is so strong if you shine it on a man it might knock him right off of his feet! Seriously. I'm extremely impressed with the product, it exceeded my expectations. Unreal amount of power…This company is solid and they are good to their customers. The products are the best in the market and I will be buying exclusively from Fenix whenever I am looking to get another flashlight. I would recommend it to everybody. Thank you!"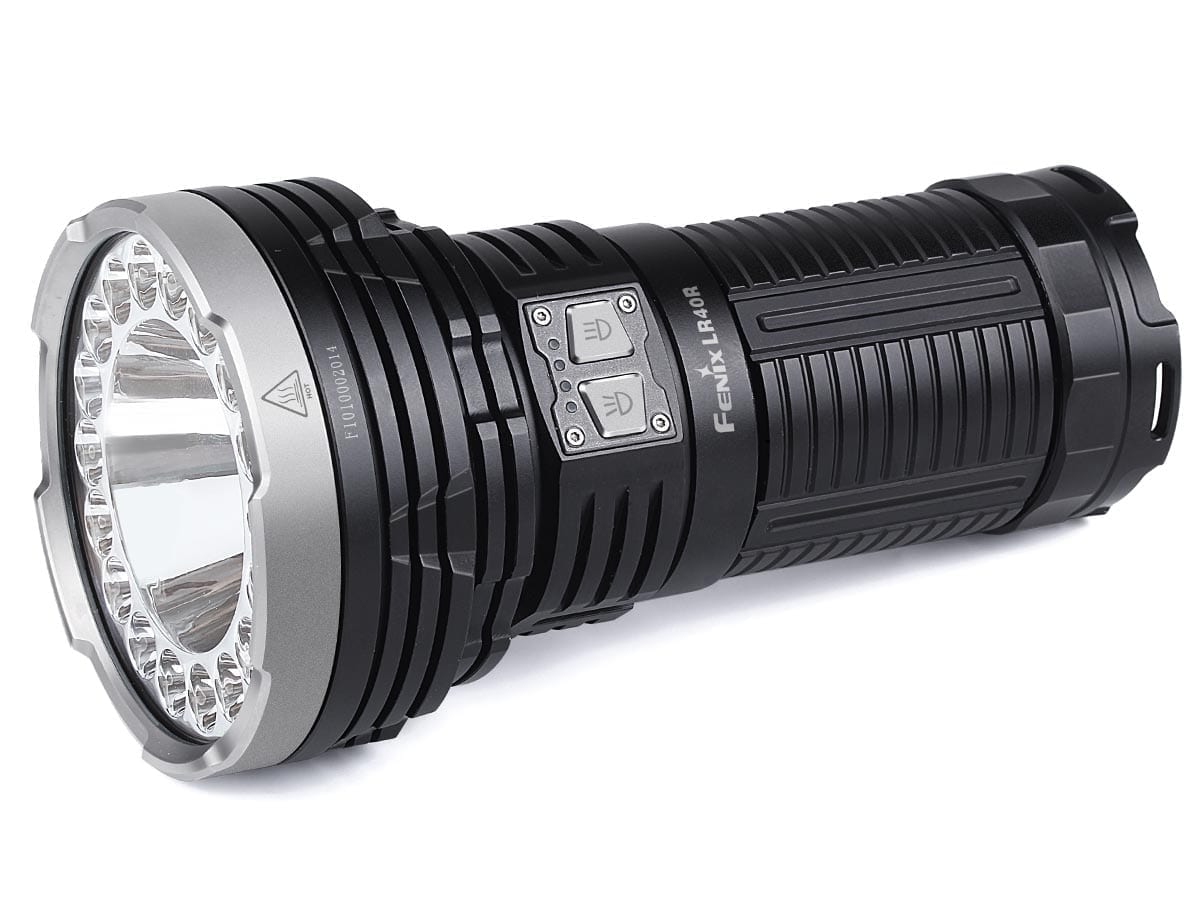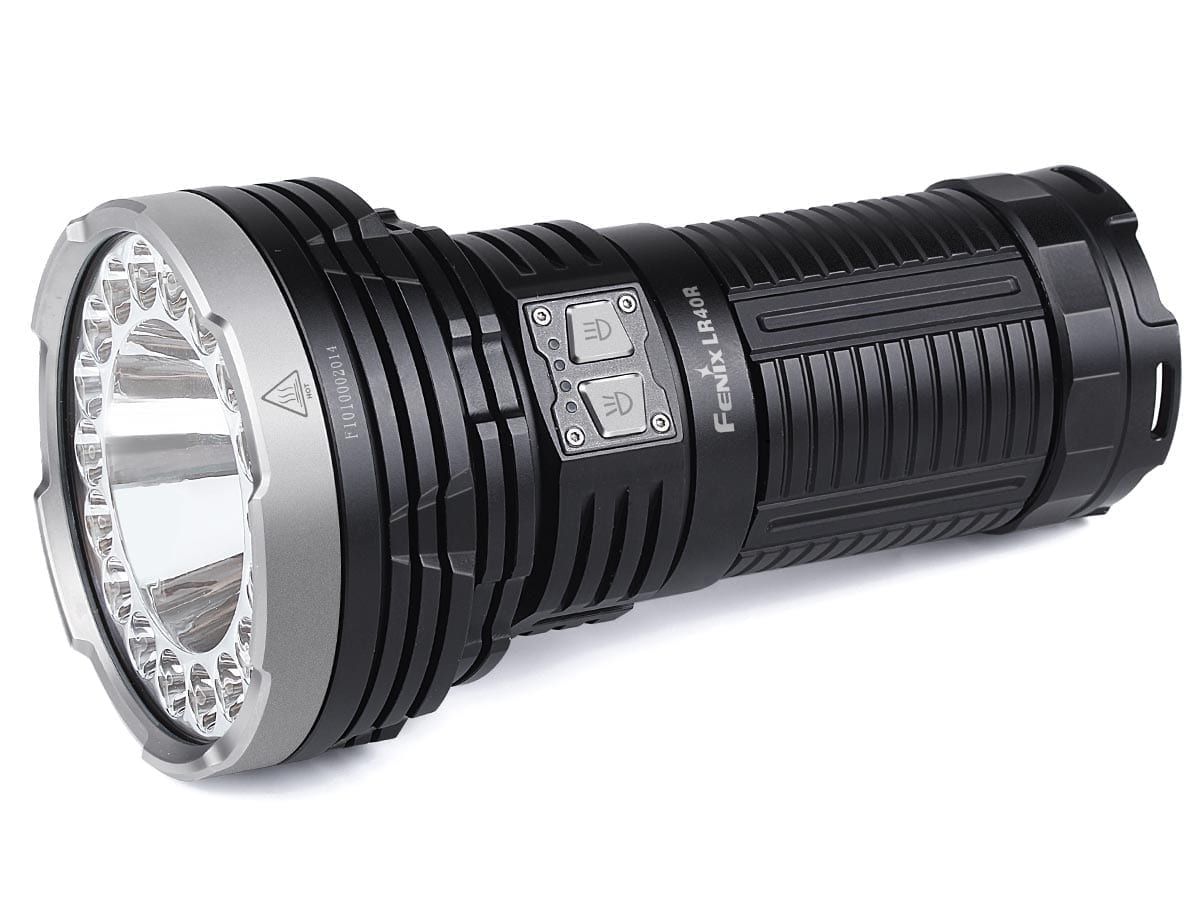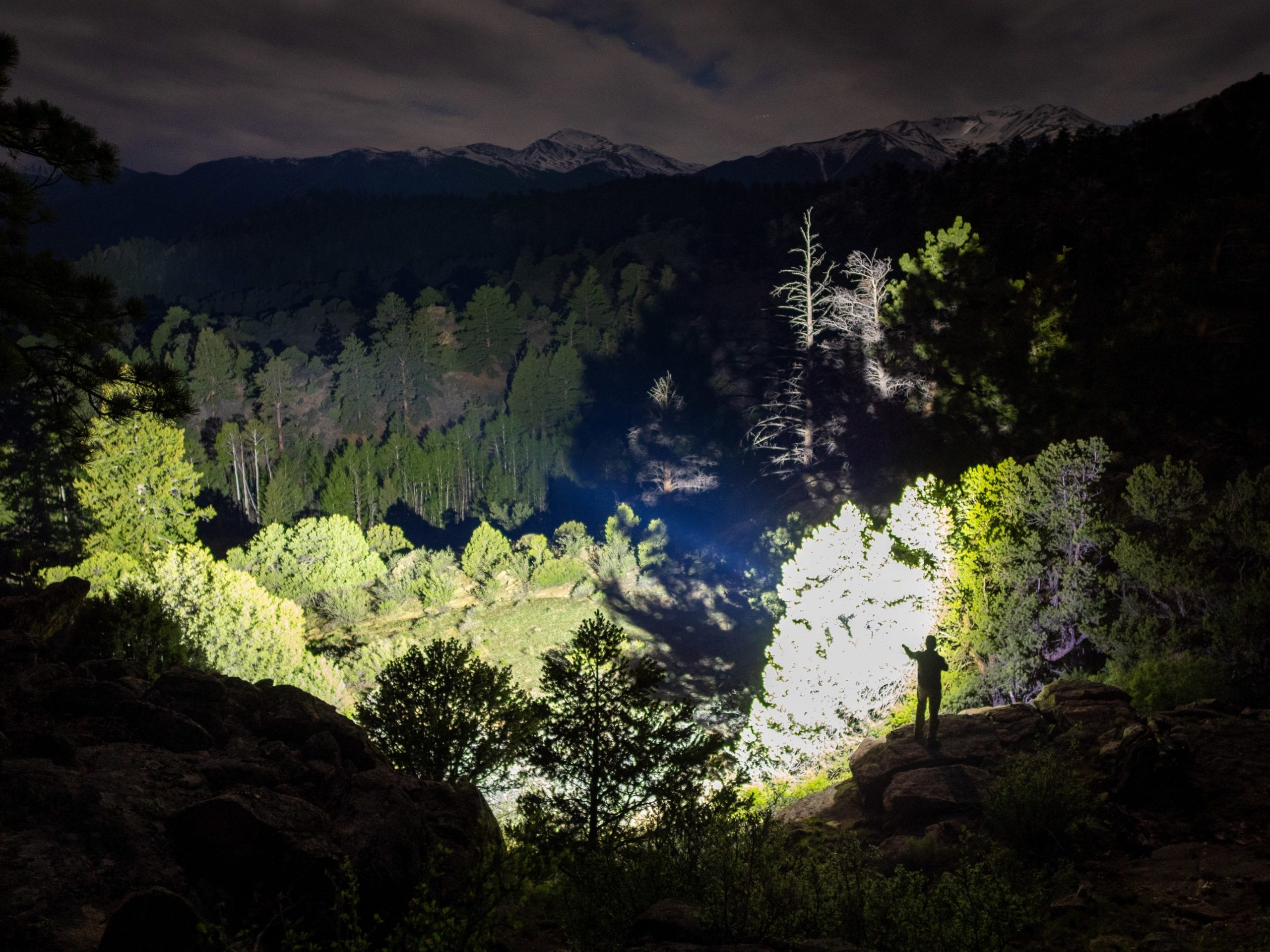 The TK26R Rechargeable Flashlight – Tactical
This multi-functional light comes with the convenience of rechargeability and the durability and ease of use needed for tactical uses. Packed full of useful features, the TK26R can throw 1500 lumens 1148ft (350m). With an incredibly long distance light output, this rechargeable light offers a faster and safer charging experience using a standard USB type-C charging port. Simply find anywhere you can plug in a USB, like an outlet or vehicle and charge this tactical light. More cost-efficient and eco-friendly, this light will still provide you with light for up to 100 hours on low mode with one charge. Equipped with a battery level indicator, you'll always know this lights battery status. The TK26R's tactical and rechargeable functionality offers more convenience for on the job situations than ever before. First responders and police workforces will love the many features of this flashlight. Charge it at home, or if you are in a pinch, charge it in the car (car adapter not included) using the type-c charging port for a 1500 lumen light source.
Other Features of the TK26R
This multi-use rechargeable and tactical flashlight contains 7 different lighting modes. In addition to 5 modes of white light including strobe, the TK26R also provides a red and green light mode. Use it as a traffic wand (adapter not included) or wave it to alert others of danger; the eye-catching red and green light comes in handy in extreme situations. Cycle through the different white lighting modes by pressing the easily accessible tactical tail switch and access the red and green light modes by pressing the functional side switch. 
The TK26R is also IP68 rated for extreme scenarios. Built from premium aluminum, this flashlight can be used for law enforcement, search and rescue, hunting, or any tactical purpose.
Review of the TK26R
"One of the best flashlights in my collection. Super bright, multi-functional, and well made."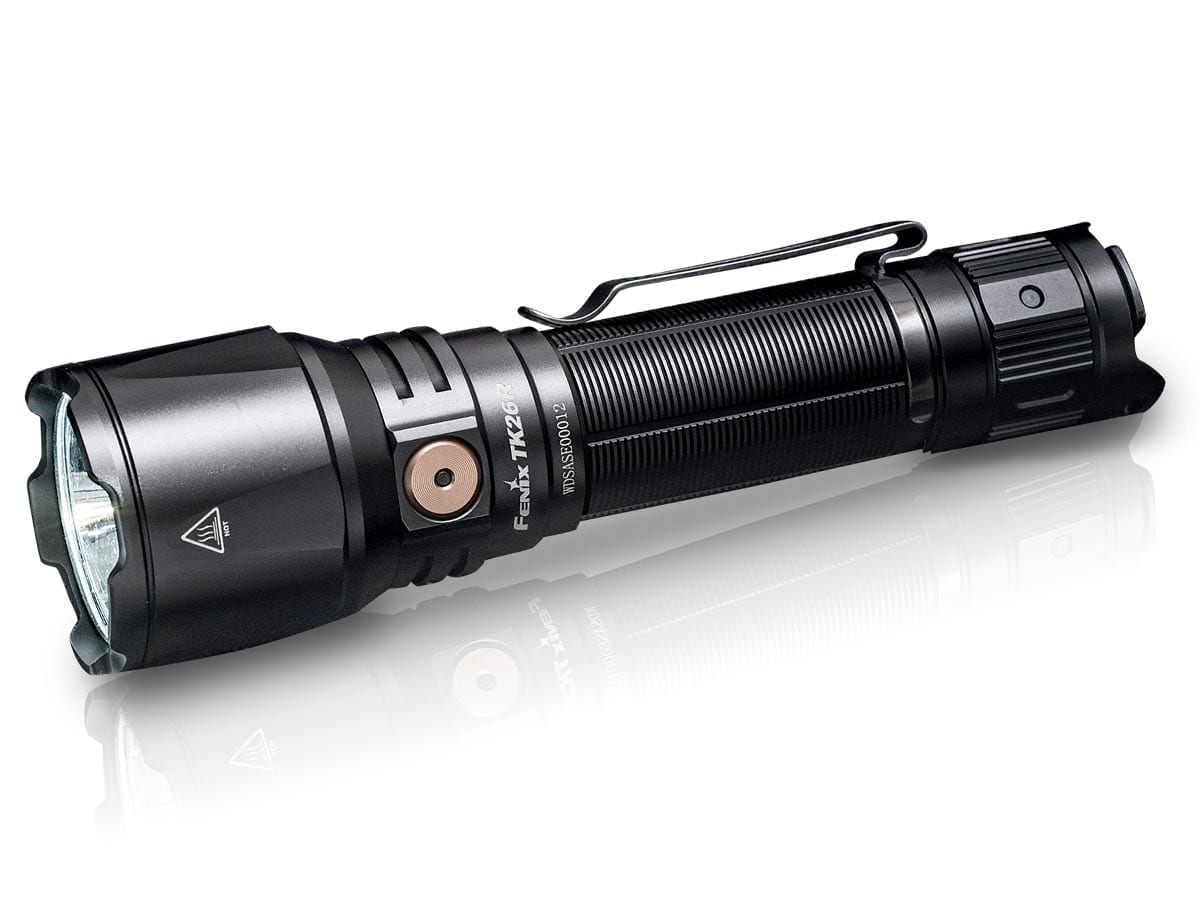 The 3 Best Rechargeable Flashlights
Fenix has a wide choice of rechargeable flashlights to choose from. While each light is durable and reliable the 3 best rechargeable flashlights are the PD36R, the LR40R, and TK26R. These rechargeable lights act as tactical flashlights, extremely bright flashlights, and even everyday carry flashlights. With their versatile build, these three lights are the best rechargeable flashlights Fenix offers.