When it comes to lights for hunting, you want the best of the best. Waste no time on unreliable, weak lights so that you can focus on the hunt. Last year, we compiled our list of The Best Lights to Earn Bragging Rights at The Hunting Camp and we still stand behind these lights as the best of the best for hunting today.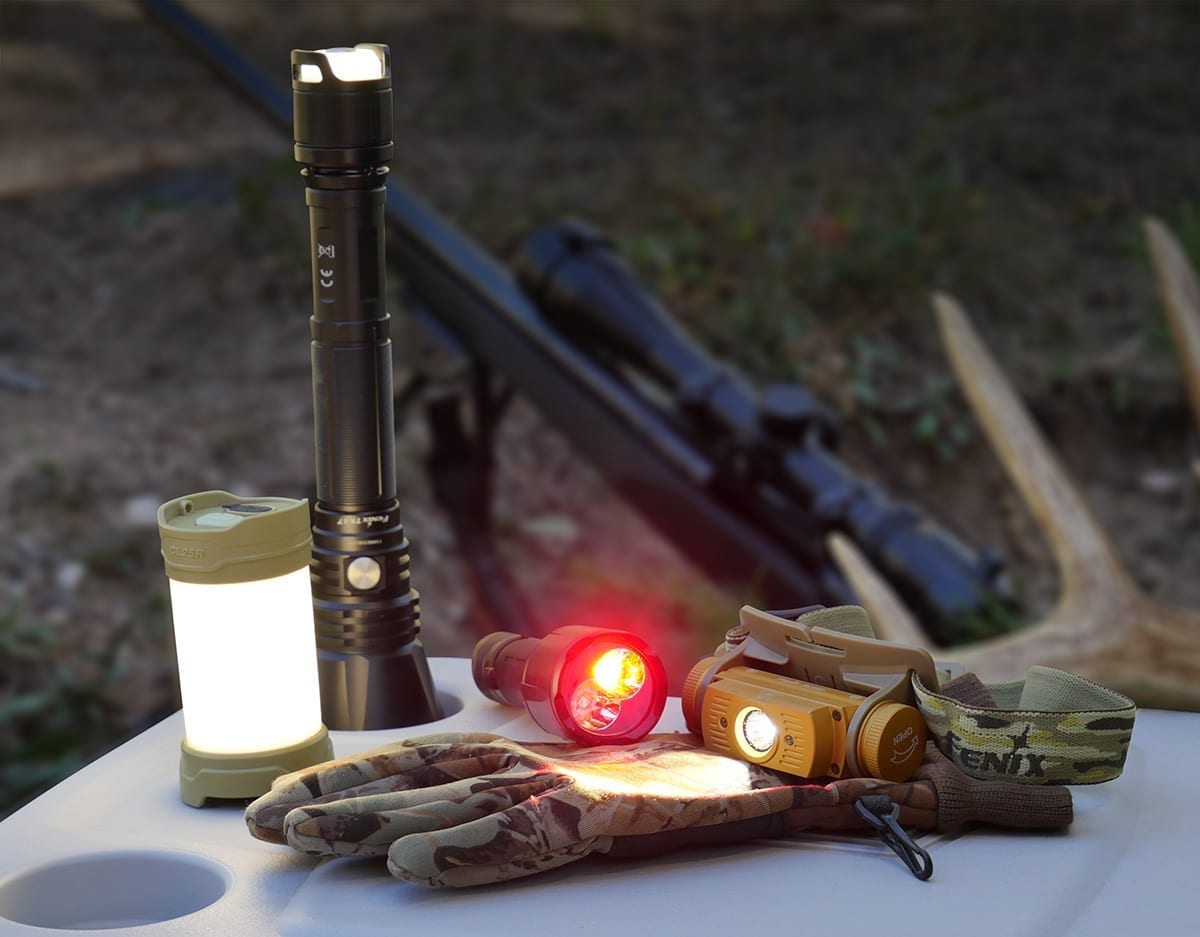 This year, we've added four incredible new lights you also wouldn't want to be caught without:
Fenix took one of its most popular flashlights and camo-fied it, making it the perfect addition to your hunting gear! New and improved, the PD35 V2.0 Digital Camo Flashlight is destined to carry on as Fenix's most popular flashlight. At only 5.4″, this light delivers a maximum 1000 lumens at a distance of 820 feet (250 meters) to cover large spaces while taking up minimal space in your pack. Turn the light on and off with the tail switch and cycle through the six lighting modes via the newly designed metal side switch—which also has a built-in battery level indicator. Enjoy the reliability of a long runtime of an incredible 430 hours so you don't have to worry about the light dying on you mid-hunt!
Never let the elements keep you from pursuing your hunt. The HM50R Rechargeable Headlamp is extremely lightweight and indestructible with its IP68-rated dustproof and waterproof body. Don't let its small size fool you, though; this headlamp is power packed, throwing a beam to a max range of over 250 feet. Its surprisingly long run time at lower settings makes it the perfect partner for your hunting trip.
Get the most out of your flashlight with a light that switches between tactical mode, outdoor mode and a lock-out function with an easy, innovation toggle function. The Fenix TK35UE 2018 Upgrade Flashlight is the newly upgraded version of the TK35UE Ultimate Edition flashlight. Enjoy upgrades like Cree XHP70 LED fitting which delivers a mega maximum output of 3200 lumens a distance of 984ft (300m).
Powered by AA batteries, the CL23 lantern delivers a max output of 300 lumens—plenty of light to illuminate the entire hunting camp. Experience multi-directional lighting modes—three brightness levels of 360° light, a front light and two brightness levels of down light. Don't want to carry extra batteries? Power the CL23 with only one or two batteries in an emergency situation. Durable, extremely lightweight, easy to pack and rain-resistant, this lantern is a perfect hunting camp companion.
For more lights ideal for hunting check out our Hunting & Fishing page.