Fenix Lighting offers a wide selection of high-performing flashlights to choose from. Extremely compact, user-friendly, and durable, not only are our flashlights incredibly reliable, but they are also some of the brightest LED flashlights on the market. With some of our extremely bright flashlights throwing up to 12000 lumens, you can light up everything near or far. 
Not only are our brightest LED flashlights packed with high lumen outputs, but they are also equipped with a number of other user-friendly features. Most of our brightest flashlights are rechargeable LED flashlights that can easily be recharged via USB. All flashlights have several lighting modes, easy handling features, and some even have additional convenient features like external battery level indicators.
Shop Fenix's Brightest LED Flashlights
HIGH-PERFORMING LED FLASHLIGHTS
All-Purpose High Lumen LED Flashlights
Not only are Fenix's flashlights built with high lumen outputs, but they can also be used for just about any task due to their range of lighting modes. A number of our high-powered flashlights are tactical flashlights perfect for on-the-job use. With each flashlight unique in build, size, and equipped with different features, our wide-ranging, bright LED flashlights can be used to light up the entire forest on a camping trip, at work, on a late-night walk, and so much more. These all-purpose LED flashlights were built to handle any situation they encounter.
Rechargeable LED Flashlights
Another feature that makes our bright LED flashlights stand apart from the rest is their rechargeable functionality. Not only are our lights built with extremely high-lumen outputs, but they can also be recharged more quickly and efficiently than ever before! Because all of our brightest flashlights have rechargeable batteries, simply recharge your light or your light's battery via its built-in USB port, within the battery itself, or external battery charger based on the model you have.. You will have long-lasting light in a matter of hours, and for some flashlights, in a matter of minutes! More energy-efficient, more cost-efficient, and just all-around easier to use, our rechargeable LED flashlights are ideal to have on hand in any situation.
Fenix's all-purpose, rechargeable LED flashlights can illuminate just about any space. Additionally, some flashlights have even more user-friendly features like battery level-indication, different lighting modes including strobe or SOS modes, tactical tail switches, and more. Built with high-performance features to handle the most intense situations, most of our bright LED flashlights are impact-resistant and can handle extreme weather conditions.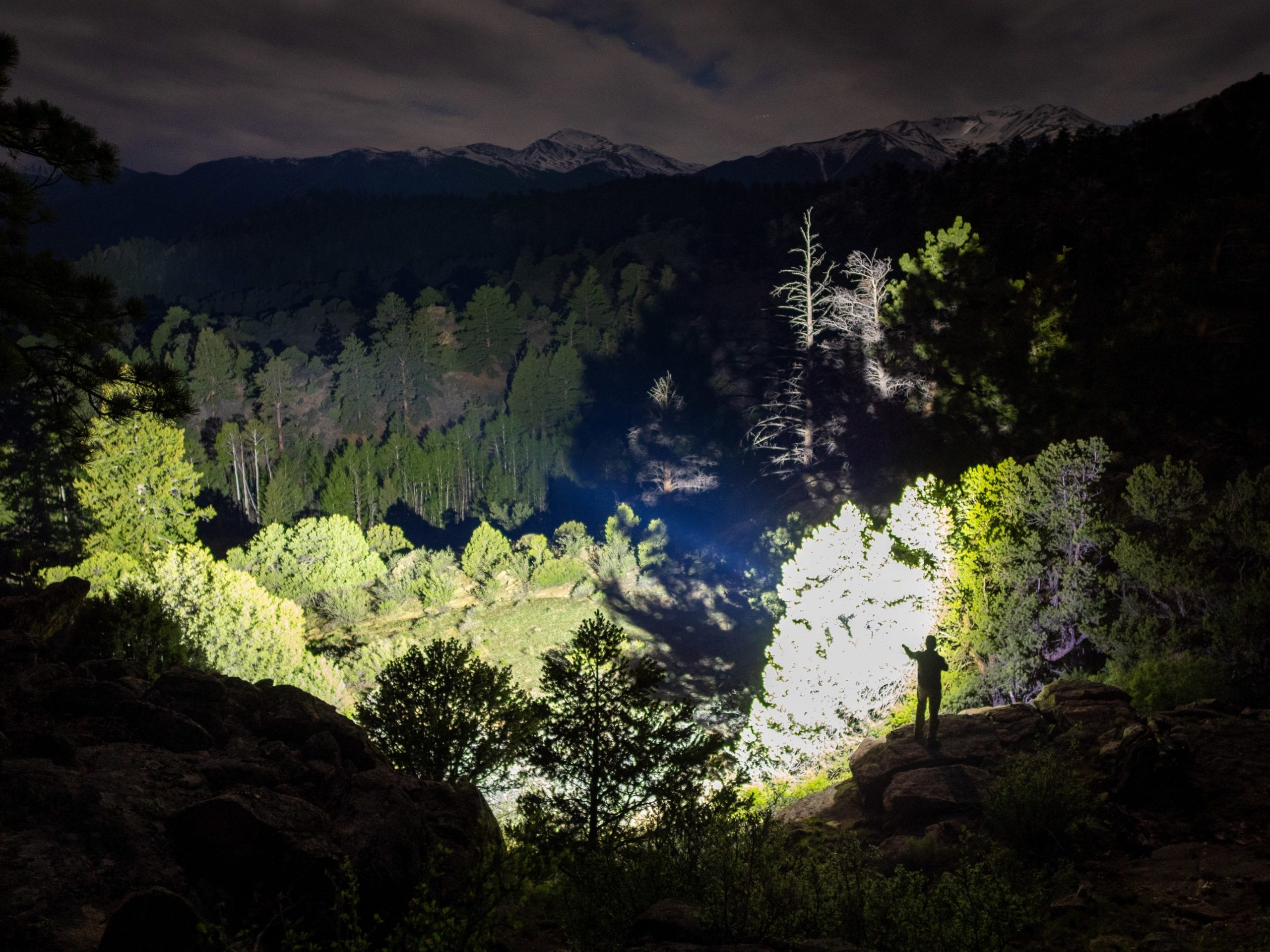 EXTREMELY BRIGHT LED FLASHLIGHTS
The PD36R is one of the brightest and most popular flashlights Fenix offers. This extremely powerful light is not only ultra-bright but it is also a great size at only 5.4" long making it the ideal everyday light. Throwing 1600 lumens 928ft (283m), the PD36R is deemed the best Fenix flashlight. This portable light can serve as a tactical flashlight, an everyday carry flashlight, or even an outdoor flashlight. With 6 different lighting modes, easy handling functionality, and a battery level indicator, the PD36R will meet all of your lighting needs. It can even recharge in as little 10 minutes and provide light for up to 5 hours. 
The TK35UE ultimate edition flashlight is not only one of our brightest LED flashlights, but it is packed full of useful features for easy handling. Throwing an incredible 3200 lumens, this light can reach 984ft (300m). Designed with innovative toggle switches, easily cycle through 8 different lighting modes. The TK25UE has a tactical mode, an outdoor mode, and even a lockout function so you can use this light for just about any situation. Extremely durable, versatile, and user-friendly with its different lighting modes, the TK35UE is great for any situation where you need bright light.
The LR40R is incredibly compact in relation to the raw power it possesses. With the ability to throw an astounding 12000 lumens 2100ft (640m), the LR40R is not only one of our brightest LED flashlights, but it is the brightest Fenix flashlight of 2020. The LR40R is the perfect lighting companion to have on hand for both camping activities or for tasks like search and rescue since it lights up entire areas so well. This high-performing light can cycle through 11 different lighting modes and combines spotlight and floodlight for maximum lighting performance. With a runtime of 92 hours on low mode, convenient rechargeability, and even more user-friendly features, the LR40R will blow you away.
FENIX'S BRIGHTEST LED FLASHLIGHTS
With a number of bright Fenix LED flashlights to choose from, you're sure to find the best flashlight for whatever job you need it to perform. Designed with incredibly high-lumen outputs, our brightest LED flashlights are packed with all-purpose features like rechargeability, far-reaching beams, and more. No matter how you use them, our brightest LED flashlight will undoubtedly provide you with the best and brightest light every time.