In my mind, Fenix makes the perfect Every Day Carry light in the form of the PD25. For me, the light's best attribute for EDC is the design of the clip with its elbow parallel to the end of the light. Combo this with the light's thin and short single battery design, and the PD25 completely disappears into the wearer's pocket, even when clipped in place. No one knows that I'm EDC'ing a "tactical flashlight" unless I show it to them. Even better, the PD25 is so lightweight that once it's clipped in, I forget it's there.
A bit of history here: I have owned no less than three PD25's to date. My first was an early 190 lumen model that I showed off to my coworkers enough that my boss once introduced me as "the guy who always has a flashlight". Fenix later upgraded the PD25 with a 10% boost in lumens, so I picked up that model and mounted my original PD25 to my home defense gun where it still sits—which is to say, I literally trust my family's lives to an "obsolete" PD25. The newer PD25 then became my daily companion.
While the best parts of the original PD25 were retained in Fenix's newest iteration of the flashlight—tactical tail button, side switch for mode changes, tiny size—this current torch has one big new trick up its sleeve. Plus, at 550 lumens, it makes my "old faithful" look like a candle stick.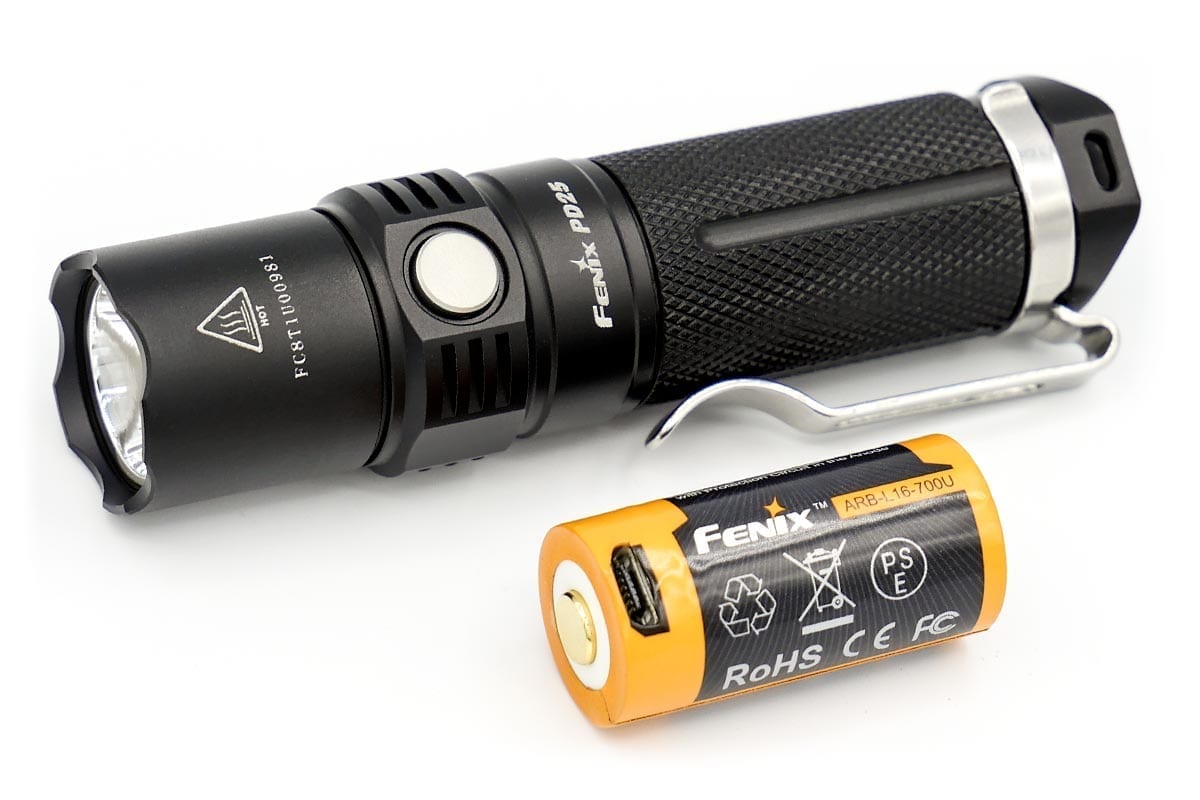 The new trick? It is the included rechargeable 16340 battery. Over the years my daughter has "borrowed" the PD25 from my bed stand for countless midnight doll parties, and in the process burned down more $3-a-pop CR123A batteries than I care to remember. I was about to hold Twilight Sparkle for ransom. But now? Play to your heart's content, Beautiful Girl— just remember to plug that spotlight onto mommy's phone charger when you're done. Thanks to its rechargeable Li-Ion battery, my 10 year-old is now officially a Fenix girl WITH daddy's permission.
If I were to make one suggestion for improvement, it would be in the side clip. For some reason this newest model has a polished stainless clip, whereas my older lights wore a black clip. While this may seem like an insignificant matter, I prefer the black clip because it is the only exposed part of the light when I'm carrying it. I don't like to advertise the items I EDC, whether it be a folder knife or a flashlight, and the black clip more generally blends in with my pants as opposed to the shiny silver one. Luckily, the clip from my old light still fits, so my PD25 is back in black, as it should be.