While the appeal of a small powerful light is often greatly sought after there can be some challenges. Ideally, something you will actually carry is the best light it shouldn't sacrifice any functionality. I long loved me PD25 it was lost on a trip not long ago. Just as I looked to replace it one of my favorite brands dropped a slew of new lights, among them the E16. A tight package, big power, and all the features. I grabbed one and hoped it would check all boxes and maintain a small footprint. Initially, it looked good but it began to fall short almost immediately, let's take this one step at a time.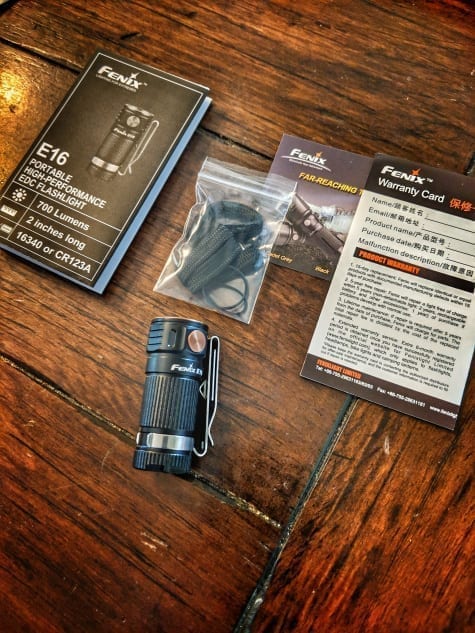 Boom finally, a magnetic tail cap it had enough power to hang on pretty tight and somehow now pick up any loose metal, this was a nice addition giving it just a little extra use around the house. You will also get a tiny little lanyard loop however this will only work with the supplied version, it would be nice if it was a little larger to support something heartier. The business end has a really nice copper accent (love) and the heat syncs are pretty prominent, but this thing gets HOT. Like dangerously hot, it might be too small for its own safety and I have almost burned my self a few times. It does throw a nice tight beam which is shocking for its size, but beware the yellow tint will easily distract.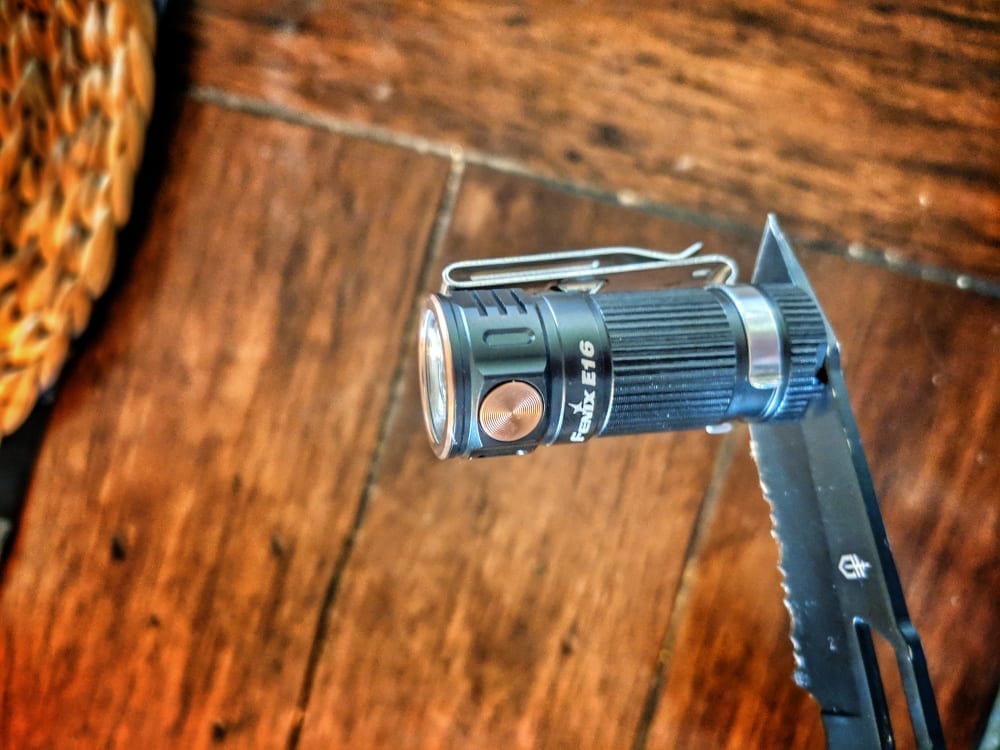 It is small and light, so the addition of some pretty rough edges is welcomed. The lines are good and the clip is very versatile. However beware, this particular clip is flimsy. After I tested putting it on another light to see if it was interchangeable it was "stretched" and didn't fit snugly back on the light. You're going to get a side activation on this one, which is welcomed due to the magnetic tail cap, it would be worthy exchange is only the button didn't blend in so well. I have spent weeks with it and I have yet to master locating and effectively activating the light. There is nothing on or around the activation button to help it stand out, it blends in perfectly with the front. It does offer lockout setting to avoid accidental activation, this is VERY important due to the heat output, it also supports the setting memory for quick recall, however, it can take time to get the light running. This isn't ideal if you need to activate the light quickly, and you won't get any sort of momentary on. All the controls just feel sluggish and clumsy, it seems to take a long time to change between settings and to activate/deactivate the light itself.
This has a long way to go, I honestly wouldn't even consider it for backup use. You won't get a lot of use on full power setting due to heat, can't find the button to turn it on and the yellowish tint on the output is flat out annoying. While this light has a lot of features there needs to be some serious tweaking to functionality before its ready for prime time. Fenix, please feel free to put that multi-direction clip-on ALL EDC lights going forward.