I bought several of these HP25R headlamps to outfit my entire team at work. We do field work on Wind Turbines. This is a great light, both out in the field and around the house.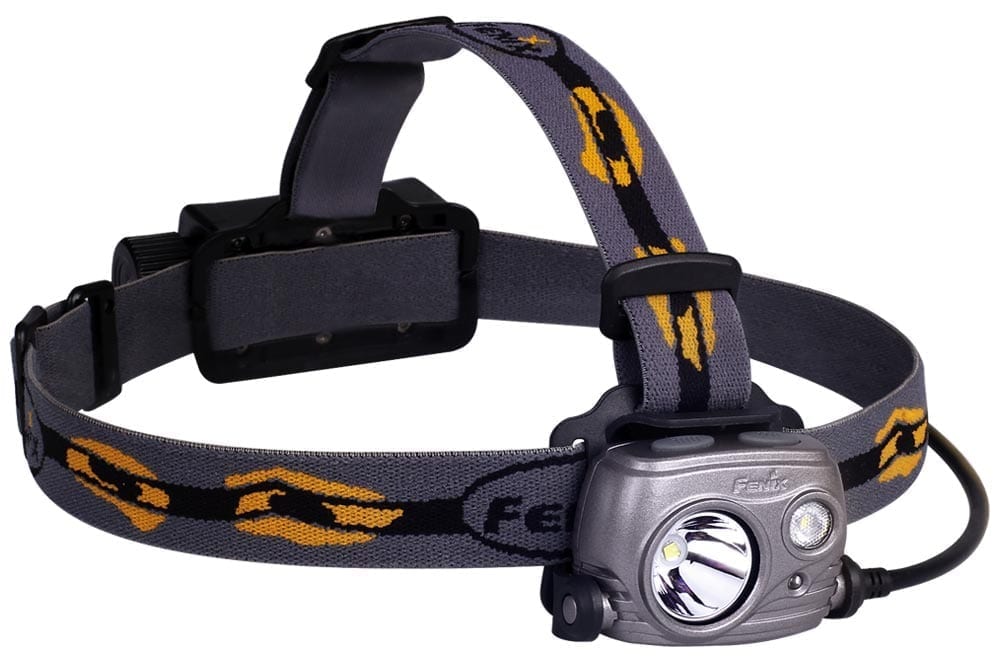 This headlamp has 2 lights, a spotlight and a floodlight. Only one of the lights can be on at a time. There is also a red light for preserving night vision. The battery pack is on the back, probably to be able to use a larger battery and not affect the balance of the light. In fact, it is well balanced, and the top strap helps hold it in place.
A wire runs from the battery pack to the light, and the battery is removable. The battery that it comes with is rechargeable and replaceable, so extra batteries can be carried separately and swapped out while working. The wire is held to the side strap with two included clips, however the wire sometimes sticks out from the side of my head awkwardly, or the clips bind up on the strap. This doesn't affect the usability of the light after adjusting it once during use.
The straps are long enough to plant this light on a climbing helmet, but it is a little annoying adjusting the strap length when going from a helmet to a bare head (however this would be true of all lights like this).
Both the spot and the flood are plenty bright, with a max of 1000lm in spot and 350lm in flood. I almost never use it on the brightest setting. The light can get warm during operation, but I have not found an issue with this. Its drop rated to 1m and waterproof to IPX-6.
Everyone on the team was very happy to receive this headlamp, as it will ensure that we are able to do our jobs safely & effectively.