I love flashlights, and I have many of my own. All of my friends and family know this, and the second biggest question I get (behind "how many do you have?") is: "What's a good flashlight for me?"
My answer usually starts with another question: "What will it be used for?" Because depending on the use case, beam pattern, color temperature, flashlight features and colors, they all come in to play. However, the most common use goes something like this, "Just something bright that I can keep by my bed, or in the glove box of the car." With that in mind for the last year and a half, the UC35 has been my response, even though I had never used it myself. So when I got the chance to buy one and use it myself, I snapped up the opportunity. Here are my thoughts, and why I think it's a good all around flashlight.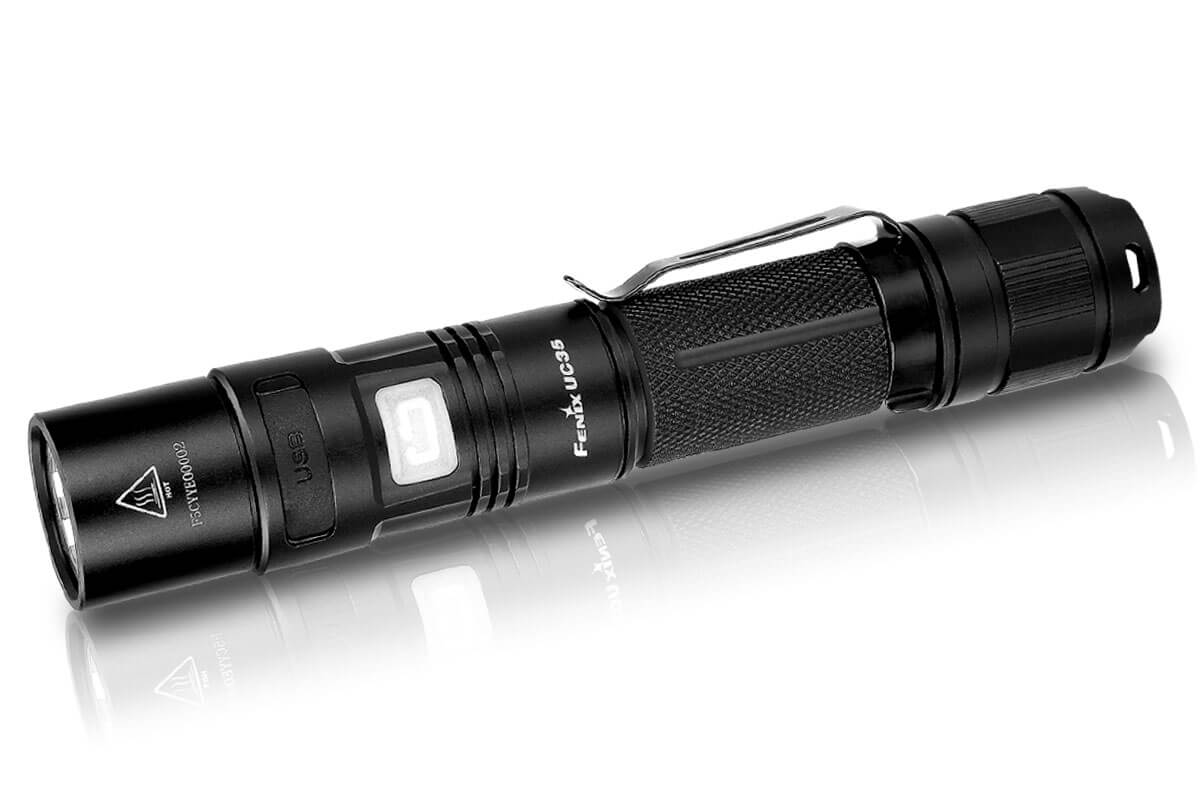 Stick around after the review to see my final tally of the light's features when I give it a rating, and put it on the "GrayScale".
Basics:
The UC35 has 960 lumens with a max beam distance of 200 meters. This is a very bright light, with good throw which I would more consider a flood pattern than a spot pattern. It had a micro USB port built into the side, which can recharge any standard 18650 lithium ion battery. Fenix includes a 3400 mAh battery with the flashlight, and it seems to be good quality, and long performance.
It has 6 modes total, which I will list along with their respective brightness in lumens:
Eco (14), low (50), mid (180), high (480), turbo (960), and strobe (960).
It's waterproof following the IPX-8 standard, which means that it is guaranteed to, at minimum, withstand water for 30 minutes at a depth of 2 meters.
I recommend this light to the average person for two primary reasons.
Reason number 1 is that the light hits the middle ground of all the flashlight categories making it appealing to all types of people. It's very bright, but not absurdly, the beam pattern is not too tight, but it's not too wide, it's not the smallest flashlight, but it's certainly comfortable in the hand, and the color temperature is the right balance in between cool and warm.
Reason number 2, is that the rechargeable aspect makes it a plug and play device. I personally have lots of 18650 cells in my house, I know the difference between cells that do and do not have over protection circuitry, I have the chargers for them and I know which brands are good, and which ones to avoid. But most of my friends and family have no idea what a 18650 even is, and they certainly don't have spare ones laying around. So for that kind of person, an all-in-one flashlight and battery combo is not only desirable, but it makes the high-end flashlight market more doable. But now on to the review itself.
As I used this flashlight, I came up with some pros and cons which I will list quickly
Pros:
The light is very bright
Integrated charging is simple and easy
The color temperature is a good mix
Mode selector button alerts you of a low battery
On/off switch is well placed on the tail cap and feels good
Very sturdy build
Waterproof
Strobe speed fluctuates and disorients well
Cons:
The front of the light lacks a tactical bezel like other models
The mode selector button is soft, and it does not provide a lot of tactile feedback, making it hard to feel when you've clicked the button, especially if you're wearing gloves
The mode selector button does not give you any battery status until it's low
The charging indicator does not seem to change when the battery is charged until you turn it off an on again
The charging process is un-intuitive by having to click the power button to turn in on to enable charging
The GrayScale
I will now rate the flashlight on a scale of 1-10 in six categories. They are:
Brightness – How bright the flashlight is
Intelligence – What kind of electronics and circuitry it has
Durability – How well it stands up to abuse, including water resistance
Features – Modes of operation and special features
EDC-ability – How well you could, and how much you would want to, carry this everyday (Everyday Carry)
Battery life – How well the battery performs
These categories will be rated twice, weighted differently for two types of people, the personal, and the professional. If you use your flashlight for a job, you will have different needs and desires, so the importance of some categories will rate differently. Also, I rate each flashlight objectively, within their class, while still keeping a point of reference for the flashlight market as a whole.
Brightness:
This is a very bright flashlight, and it is on the top of the scale for what a personal user really needs around the house. It is not, however, considered "very bright" in the world of flashlights, and being a sub-1,000 lumen flashlight misses the intrinsic "bright flashlight" test.
Personal: 7
Professional: 4
Intelligence:
This light has 6 modes, memory, battery charging and over-protection circuitry which covers all of the basics, but it does lack SOS, and it has lack-luster battery-level indication.
Personal: 8
Professional: 6
Durability:
Admittedly, I did not abuse this light at all, but the build quality seemed standard for Fenix, which is generally very high. Combined with the IPX-8 rating, I assume the flashlight could take quite a beating.
Personal: 8
Professional: 7
Features:
The features on this light are limited, but they are standard for most lights in this class. Strobe, integrated charging, and low battery levels are all nice. I do miss SOS, and the front bezel is flat, instead of having a tactical spike to it.
Personal: 6
Professional: 5
EDC-ability:
This light is the perfect width, although with the charging circuit, it's a little long. I don't think it's an issue for anyone wearing it on their hip, but it may be an issue for the pocket carrier.
Personal: 7
Professional: 8
Battery life:
The battery life is standard for Fenix's product line. I doesn't seem high when the turbo will only last 1.5 hours, but considering the one-cell battery and the high-lumen output, it's quite respectable. Still, it won't stack up to multi-cell designs.
Personal: 6
Professional: 5
Now, the total Grayscale, out of 50 total points is:
Personal: 42
Professional: 35
This is what I expected, since this light is more geared towards the average home user. Don't let the low professional level fool you, for the money, this is one of the best EDC flashlights you can buy.